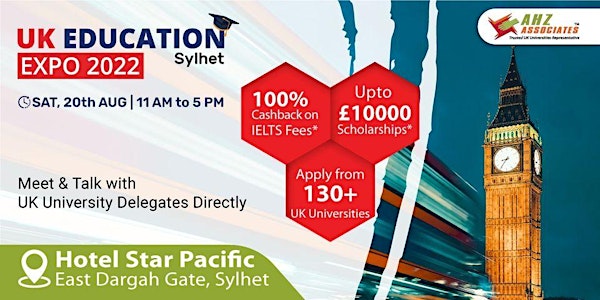 UK Education Expo 2022 - Hotel Star Pacific Sylhet
When and where
Location
Hotel Star Pacific East Dargah Gate #982 Sylhet, Sylhet Division Bangladesh
About this event
🇬🇧 Join us at UK Education Expo to be held on 20th August at Hotel Star Pacific from 11 am to 5 pm. Meet the UK University Delegates and have a face-to-face conversation with them. Apply in top UK universities on the spot with lucrative scholarship opportunities. The entry is 100% free.
Don't miss out on this wonderful opportunity!
🔰 AHZ Associates' team of education specialists is so dedicated to working with UK universities to make your dream come true. We make sure no one is left behind.
👉 Reserve your seat: https://ahzassociates.co.uk/expo/sylhet-registration-form
✅ Apply from 130+ UK Universities
✅ Secure up to £10000 scholarships*
✅ 100% Cashback on IELTS Registration Fees*
✅ Attend & get exciting gift items
✅ Apply and study a course with a work placement year
✅ Secure the opportunity for 2 years Post Study Visa after your degree
👉 Make sure to bring your supporting documents to check your eligibility with UK universities.
📌 Venue:
Hotel Star Pacific (https://tinyurl.com/36jnz3rz)
982, East Dargah Gate, Sylhet
☎ +880 1713558204
📩 applyuk@ahzassociates.co.uk