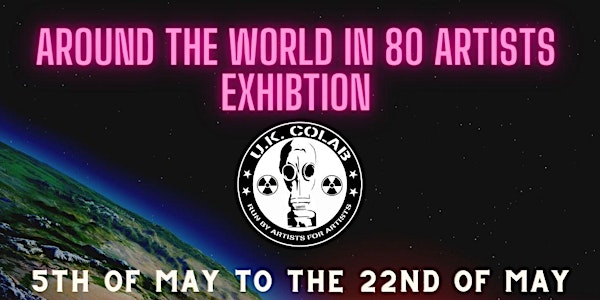 UK COLAB Around the world in 80 artists exhibition opening night party
Opening night party for the "Around the world in 80 artists" show, Free from 7 - 10pm, min donation of £10 after 10pm for DJ'S to 2am
Date and time
Thu, 5 May 2022 19:00 - Fri, 6 May 2022 02:00 BST
Location
Electrowerkz 7 Torrens Street London EC1V 1NQ United Kingdom
About this event
NO TICKETS ARE NEEDED TO COME TO THE SHOW AFTER OPENING NIGHT, JUST COME ALONG AND YOU WILL BE WELCOMED IN, THE SHOW RUNS FROM THE 5TH TO THE 22ND OF MAY WITH LOTS OF POP UP EVENTS RUNNING ALONGSIDE THE MAIN SHOW,
CHECK OUT OUR FACEBOOK PAGE FOR MORE DETAILS OF THE POP UP EVENTS AND WHAT IS ON ON WHAT DAY,
AND ALSO IN THE IMAGES ON THIS EVENTBRITE PAGE BELOW AS YOU WILL SEE ALL OF THE LINED UP POP UP DAY EVENTS ON THE FLYER IN THE IMAGES BELOW ON THIS PAGE
(FACEBOOK PAGE IS "UK COLAB" )
TICKETS ARE JUST FOR THE OPENING NIGHT
The show is about how art can bring people together in a way nothing else can, especially after this crazy hard period of worldwide isolation like none before,
The show contains work from over 80 artists from 40 countries all coming together to showcase their amazing work together.
Covering all genres and mediums it promises to be a very special show indeed
Each artist is already fulfilling the narrative of the show just by being in the show, which leave them the rare freedom in a group show to be able to create anything they like without the constraints of a strict narrative,
Meaning we get to see art that best showcases who they are as an artist, and what they want to create if they have the freedom to do whatever they like.
This amazing show will run for 2 weeks from the 5th of May to the 22nd of May
The UK COLAB "Around the world in 80 artists" show will not only be an amazing real world show
But it will also in viewable in our own brand new virtual gallery on www.ukcolab.co.uk
Over 80 artists coming together from 40 countries, and showing around 200 pieces in total on the walls in the main show ,
The whole two floors will be decorated starting as a synthetic garden on the pop up floor and slowly turning into a real plant oasis into the main show courtesy of theplantpeople.store
We will also have a several independent clothing labels with items for sale, and to finish it off we are constructing a couple of huge open print racks where any artists is welcome to come and leave some of their work for sale, making the event accessible to all artists.
This promises to be a show that will blow you away.
On the opening night from 7pm until 10pm we will have a huge selection of creative performances for you from beatboxing, to spoken word, performance art , live music and lots lots more all for free,
Then after 10pm it is a minimum donation of £10 to stay past until up to 2am with a selection of brilliant DJ including DJ royalty himself Trevor Fung along side 5 other DJ to be announced soon playing back to back.
All the donations from opening night along with any money made from the 25% commission on any sales of artwork during the whole event will be divided equally between UK COLAB to help recoup some of the costs of putting on the show and to help put on future events, TRUfeeds, a platform that help in the community in various ways and helps feeds the homeless, and a non profit called www.vafrica.org that helps provide a platform for people to have a voice in Sierra Leone, and teaches all the media skills needed to build websites and to run and manage the platform themselves,and most recently the kids they work with made an amazing music video which can be found on youtube if you search "VAfrica musik video"
So not only do we charge artists less commission to sell their work than most places, the money we do make is going to very worthwhile causes and helping make a difference,,
NO ID IS NEEDED TO GAIN ENTRY
A sneak peak at the amazing line up of performers so far that we have planned for the opening night epic party,
Spread out over the entire Middle floor of the venue with the main show running up on the floor above it promises to have something for everyone 🙂
The opening night will be hosted by the brilliant Breezy Lee 🙂
And this is the line up so far
Cake Room :
Acoustic / Sonic Sound / Spoken word artists
• Beatfox
• Mark My Words & Grotesk
• JoJoista
• Hannah Ragga
• Adrian Fkhead Ekenhall
• Young Sage
• Sabina
• Jugular Malloy
• Peter Baker
• Donna Cousins
>> (90% Confirmed)
//
• Rob the rub
• Life Anarchic
• Cracker Jon
• Piano Monkey
• 2loops of Fury
>> (Still waiting on confirmation)
Court yard :
Cabaret / Performance Artists
• Apple Tart
• Saskia fisti cuffs
• Isabella finch
>> (90% Confirmed)
//
• HED
• Krumpet The Clown
• Alice Karvelli
(Still waiting on confirmation)
As you can see we are still confirming acts but at least this will give you an idea of what to expect on the opening night 🙂
Something for everyone 🙂
And the line up can be found on the flyer :)