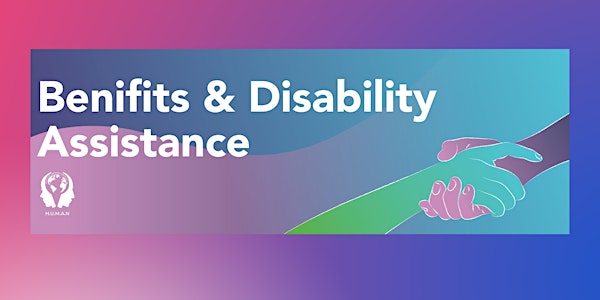 UK Benefits & Disability Assistance
A one-to-one service, assisting those with disabilities and/or those who are neurodivergent, to guide on claiming benefits in the UK.
Refund Policy
Contact the organiser to request a refund.
Eventbrite's fee is nonrefundable.
About this event
Entering the process of claiming benefits can be an extremely difficult and daunting task, especially if you have a disability or a health condition. These long and complex processes can often mean people entitled to benefits will not claim them - not having the knowledge or the know-how can make it impossible for many.
If you believe you are entitled to claim benefits, but are unsure how to navigate the process, we can help!
We at H.U.M.A.N, a UK-based Community Interest Company (CIC), can provide you with the knowledge and to aid you through this daunting process. Gaining a wealth of knowledge of these processes through lived experience and advocacy, we continue to give the support and tools needed so those in need can have access to the benefits they are entitled to.
We are offering a one-to-one consultancy and advocacy service to provide you with benefits support and information to enable you to navigate the Disability benefits, providing assistance and sign-posting for other specialist services around physical and mental disabilities.
Disability Befriending - We aim to empathetically support you if you are in need of insight into specific benefits and work related disability help , with a kind and caring approach.
Advocacy - We can act on behalf of you, and speak in favour of you. For example, to speak about different benefits/ support the completion of benefits forms or speak to Local Authority to discuss a suitable care package, and challenging unfairness, injustice and discrimination.
Sign-posting - This is linking people to other agencies and support e.g. where they can get the detailed/specialist support from an organisation that directly addresses their concerns.
In our session, we can offer support in the following areas:
DLA (Disability Living Allowance for children under 16 years old - DLA rate is between £24.45 and £156.90 a week and it depends on the level of help the child needs. (https://www.gov.uk)
PIP (Personal Independence Payment) for young adults 16 & over and adults up to aged 64, there are 2 parts, referred to as components, the daily living component standard rate £61.85 and £92.40 for the enhanced rate. The mobility component standard rate is £24.45 and the enhanced rate £64.50
Attendance Allowance - is a benefit for people over State pension age who need help with personal care or supervision: Higher rate: £92.40 and the Lower rate:£61.85
Assisting with a Local Authority Package of Care to assist with care needs
Access to Work supporting to enter or stay in work when you have a disability of long-term illness
Offering sign-posting and/or advocacy for referral to support agencies
The sessions will be conducted by our Very own Director, Angela . Each session will be £20 p/h. Times can be amended and once ticket has been purchased. If you would like to change the time, you can contact us (emails provided below.)
For the those in significant financial hardship, please contact us on one of the email addresses provided below for a discounted offer:
angela.mitchel@h-u-m-a-n.uk
shardell.joseph@h-u-m-a-n.uk