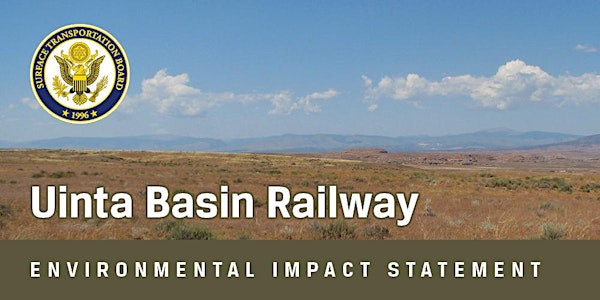 Uinta Basin Railway Draft EIS - Online Public Meetings
Please register to attend an online public meeting to learn more about the Uinta Basin Railway Draft Environmental Impact Statement.
About this event
**NOTE: Meeting registration will close one hour prior to the start of each meeting to allow time for meeting preparation. Feel free to still join the meeting by Zoom or phone as indicated in the meeting instructions found on the project website, www.uintabasinrailwayeis.com
The Uinta Basin Railway Draft Environmental Impact Statement (Draft EIS) is available for public review and comment. The Surface Transportation Board's Office of Environmental Analysis (OEA) will hold six online public meetings as part of OEA's ongoing public involvement process associated with the environmental review of the proposed project. The purpose of these meetings is to share information and solicit public comments on the Draft EIS.
Due to the ongoing COVID-19 pandemic and to ensure the safety of all participants, all public meetings for the Draft EIS are online. OEA will host all online meetings using Zoom. OEA will begin each online meeting with an overview of the proposed project and environmental review process, followed by a facilitated session for individuals requesting to make oral comments. OEA will host six online public meetings.