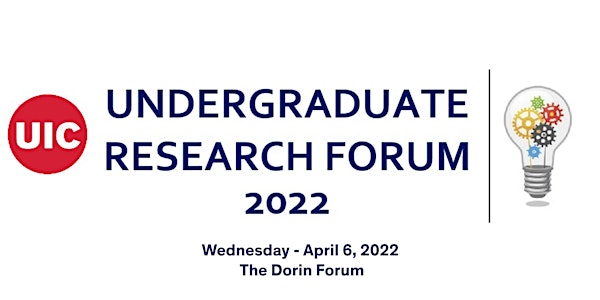 UIC Undergraduate Research Forum 2022
Register now to participate as a student at UIC's Undergraduate Research Forum 2022!
When and where
Location
Dorin Forum 725 W Roosevelt Rd, Chicago, IL 60608 Chicago, IL 60607
About this event
This important campus wide event, sponsored by the Office of Undergraduate Research, the Honors College, the Office of the Vice Chancellor for Research, the University Library, the UI Health Urban Health Program, and the Center for Clinical and Translational Sciences showcases undergraduate student research covering a broad range of scholarship across a variety of disciplines. If you are an undergraduate student who is involved in research, creative inquiry, performance, design, or other scholarly projects on campus under the formal supervision and/or direction of a UIC faculty member or other project supervisor, please join us at the Undergraduate Research Forum to present your work.
Student check-in at the event will begin at 11:30 a.m. All students registered to present should check-in at the Forum no later than 12:30 p.m. Judging of student presentations will occur from 1:00 p.m. to 3:30 p.m. in the main hall of the Dorin Forum, to be followed by a Reception & Awards Ceremony from 3:30 p.m. to 5:00 p.m.
To Register:
Click the "Register" button to the right.
You will then be taken to a screen to register to present your research or creative inquiry project. You can also register to attend one of the workshops or tabling sessions available at the event, when registration opens for those at a later date.
Additional information about each workshop and session can be viewed by clicking "see more."
Using the drop-down menu to the right of each listed session/panel, select "1."
After you have made your selection(s), click the orange "Register" button.
After clicking "Register," you be asked to provide required registration information.
If registering for a group: Select "Yes" when asked, and additional fields will be provided to input the names and information of other group members. Groups are limited to a maximum of 4 team members. One team member should submit a single registration for all students in the group.
Once all fields have been completed, click "Submit."
NOTE: All fields must be completed in order for the final "Register" button to turn orange/be enabled. If the button is grayed out, this indicates that one or more fields have not been completed.
After completing the registration form you will receive an email confirming the details of your registration with a link to view and manage your registration.
All student presenters are required to submit their abstract (300 words or less) separately as a Word document containing the Project Title included as listed in the following registration pages, no later than close of business on Tuesday, March 22, 2022 via email to: URF_Reg.t2glpzupei7bcuc9@u.box.com
Should you have any questions or concerns, please contact the event organizers at urf@uic.edu.