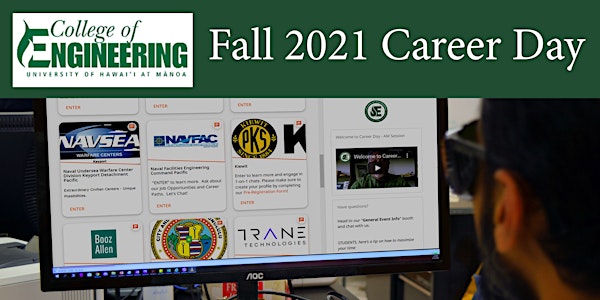 UHM Engineering - Fall 2021 Career Day
Join us for Fall Career Day!
When and where
Location
University of Hawaii at Manoa Holmes Hall 2540 Dole St. Honolulu, HI 96822
About this event
UPDATE, as of 8/23/21: Due to the newest City & County restrictions on large gatherings, the in-person session of our Career Day has been cancelled. To accommodate more employers in our virtual Career Day platform, we have added an additional afternoon session on 9/21 from 1:00 – 4:00pm.
Join us for the University of Hawai'i at Mānoa's Engineering Career Day on September 21, 2021.
During the virtual sessions on 9/21, hosted on Brazen's premium virtual recruiting platform, you'll be able to group chat, live stream video, and video chat individually with your candidates, as well as review any registered attendee's resume before, during, and following the event.
SESSION TIMES
Virtual Session I – Tuesday, 9/21/21, 9 a.m. - 12 p.m. HST via BRAZEN
Virtual Session II – Tuesday, 9/21/21, 1 p.m. - 4 p.m. HST via BRAZEN
PRICING
EARLY BIRD:
$300.00 plus taxes/fees: Early registration until August 16, 2021
REGULAR:
$400.00 plus taxes/fees: Regular registration (as spaces are available) from August 17-September 7, 2021
VIRTUAL EVENT REGISTRATION INCLUDES:
• Fully branded and customized booth, which can display job openings, videos, benefits information and more
• Ability to exchange messages and initiate video calls with job seekers during the event
• Accounts for multiple members of your team, with unlimited recruiter seats in the booth during the event
• A single login to manage your booths for all previous and upcoming events
• Training and support for your team
• Marketing leading up to event that promotes your company and brand
• Access to full database of all registered job seekers before and after the event, including resumes, profile information, and contact information
PAYMENT BY CHECK
If paying by check instead of credit card, please select this option at checkout and mail in your check separately. Note that your registration is not fully confirmed until payment has been received. Checks should be made payable to the University of Hawai'i Foundation. Please notate the event name in the mailing. Please include your contact information with the check.
Mail to:
UH College of Engineering
Attn: Justin Scott
2540 Dole St.
Holmes 240
Honolulu, HI 96822
FAQS FOR EMPLOYERS
Review our Event FAQ for answers to employers most frequently asked questions. You may direct any additional questions to Kim Perez Hults, Director of Marketing and Outreach Relations for the College, at hults@hawaii.edu.
This online registration page was provided as a service to the event host, by the University of Hawai'i Foundation. For information on UH Foundation's privacy policy, click here