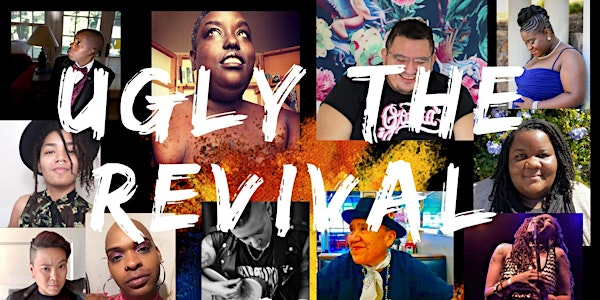 Ugly The Revival - Join US to Say NO to Uglification and Yes to Love & Art!
Bring your friends & family for a juicy, joyful, interactive evening of radical inclusivity, loving liberation, & beloved community!
When and where
Location
Impact Hub Oakland 2323 Broadway Oakland, CA 94612
About this event
UGLY The Revival is a multi-media performance and Revival Ceremony devoted to liberatory love, joyful connection, creativity and imagination, celebrating our shared existence, and the process of reclaiming the parts of our bodies, identities, desires, and thoughts that have been uglified by bullying, oppression, and repression.
All People / All Bodies / All Ages Are Welcome!
***ASL Interpretation Included
***Vegan & Meat Foods Included
***Childcare Included
***ADA Accessible Venue
***Gender-Neutral Bathrooms
***Couches & Wheel Chair Spaces Available
***Chairs will be spaced out enough to be fat friendly!
*** No One Turned Away for Lack of Funds (email vanessa@pleasurenesslitacademy.com)
PLEASE JOIN VANESSA ROCHELLE LEWIS, (FOUNDER OF PLEASURENESS LITERARY ACADEMY AND RECLAIM UGLY) AND IMPACT HUB OAKLAND FOR AN INTERACTIVE EVENING OF:
Interactive Education, Joy-filled Ceremony, and Healing Performances;
Sermon: How Reclaiming Our Thoughts, Bodies, Desires & Communities from Uglificaton can Fight Repression, Oppression, Disconnection, Violence & Bullying
Sharing Your Own Stories + Building Beloved Community
Honoring Local Freedom Fighters + Activists;
Celebrating Radical Imagination & Creativity; and
Pleasure-Centered Inclusivity for ALL Bodies, ALL People, ALL Walks of Life
*** We are hosting a Benefit for Radical Organizations Committed to doing the difficult, often dangerous and emotionally taxing labor of spreading loving liberation and transformative inclusivity to replace systemic-, interpersonal-, and internalized uglification.
***Please check out this slide show for a quick definition and analysis of uglification.
Historically, "ugly" has been a cruel, horrible, deeply vicious word! Our fear and collective buy-in of this word has stunted community empathy; enabled playground and work-place bullying; promoted self-harm and self-hate; silenced brilliant and critical voices; separated families; endorsed interpersonal and state violence; facilitated gentrification and colonialism; and been co-opted as a weapon against love, unity, and liberty for all. Deeply triggering, "UGLY" has been used to target, bully, silence, and exclude all sorts of people – especially youth, Black and Indigenous people of color, queer and trans people, fat people, sick and disabled people, undocumented folks and immigrants, incarcerated/formerly incarcerated people, poor and houseless people, old people, and other populations disenfranchised by systems of oppression.
We ALL know the horror and ill treatment to follow at the heels of being perceived as ugly, and the deep pain that ensues when you or the person you love are characterized as such.
In November 2018, a photograph of Reclaim UGLY & PleasureNess Literary Academy Founder, Bay Area Writer/Performance Artist, and former Community College Instructor, Vanessa Lewis, appeared on the Internet when a party promoter, who hires women to appear at events, created a meme that mocked Lewis's appearance. "Me looking for baddies," it read. Underneath Lewis's photo were the words, "The type of women who respond." Upon confronting the individual who posted her picture, she learned that he found the photo after googling, "Ugly Black Women." At the time, Lewis's photo was the second image to pop up.
Lewis was not surprised or even hurt. As a fat, Black, queer woman who was a bullied fat, Black, queer youth, this was not the first, second, or third time she had been targeted for her appearance. Lewis grew up to become a powerful woman, writer, inspirational speaker, teacher, and performance artist. She has devoted her art, career and activism to support other people's healing from bullying, exclusion and lookism. Consequently, she was angry that her image had been appropriated as a tool to mock, exclude, and chastise people based on their appearance, and decided it was time to really make a difference.
She chose right then and there to devote her life and labor to interrupting a process and practice that Lewis calls "uglification" and to spread the message of Reclaim UGLY (Uplift Glorify Love Yourself – And Create A World Where Others Can As Well).
For more about Reclaiming UGLY, read this* article written by Vanessa as she defines uglification and her crucial thought work and *this article to understand how something as precious as beauty can be dangerously weaponized when not rooted in liberation and inclusivity,
UGLY the Revival, as part of The Reclaim UGLY Movement championed by Vanessa Rochelle Lewis, is sponsored by Impact Hub Oakland, Horizon's Foundation, and Positive Results Center. Together, we are asking the Oakland, Bay Area to come together and explore what it means to create a world where EVERYONE – regardless of what you look like, how much money you have, who you love or desire, how your body works and take up space, what religion/spirituality you do or don't practice, and where you come from – knows that they are worthy, welcome, loved, and inherently valuable.
Join us at Ugly the Revival to explore, practice, celebrate, and engage with UGLY in a radically different way. For us, to reclaim UGLY means to:
U – Uplift
G – Glorify
L – Love
Y – Yourself
And Create a World Where Everyone Else Can as Well.