Description
>>The Ugly Sweater Holiday Bash
& VIPSquad's Private Beach House Crab Boil

>>SAT Dec 16th 2017
12pm-4pm @ VIPSquad Nassau Co. Beach House
4pm-9pm @ Melo's
9pm-Until @ VIPSquad Nassau Co. Beach House (Afterparty)

>>>> ****ALL TICKETS BELOW ARE NOT VALID UNLESS PURCHASED PRIOR TO DECEMBER 16TH**** <<<<
Beach House:

$20 All You Can Eat Blue Crabs & Shrimp (Oysters -- First Come, First Serve)
$20 All You Can Drink Select White/Brown/Beer/Hunch Punch
$35 All You Can Eat & Drink
$40 All You Can Eat & Drink + No Line/No Wait Entry Into the Ugly Sweater Bash @ Melo's until 6pm (per person; does not apply if you arrive at Melo's after 6pm, $45 if arriving after 6pm -- OFFER IS FOR VIPSquad VIP LIST ONLY)

Melo's:
Free before 5pm with an Ugly Sweater
$5 Until 6pm if Reserved In Advance -- Click "Tickets" to Reserve for FREE
$10 After 6pm if Reserved In Advance -- Click "Tickets" to Reserve for FREE
$10-$15 if no reservation is made in advance
$10 Cover | ***Must have valid ID*** (A Portion of the Proceeds collected via THIS EVENTBRITE/FACEBOOK PAGE will be donated to Life & Grind: Duval cast member James Hucks' ADUH Clothing, who is hosting a toy drive and giveaway for Wolfson Children's Hospital)
--Also celebrating the release of #FreestyleFilez5 -- with exclusive content straight from the 2017 #BETHipHopAwards Green Carpet -- Contact www.facebook.com/vipsquadent for info and/or to submit your music for consideration to be included in the upcoming #LifeGrindEverywhere Spring Tour 2018 --> SEE PRESS @ Bottom of Event Page >>
>>Sign Up for the Mailing List @ www.VIPSquadNation.com for exclusive event updates, advanced celebrity appearances/concert notices in Florida/Georgia, VIP performance/advertising opportunities on the CW network and regional radio, opening act opportunities, exclusive discount products/regional services and MORE!
>>> Official Soundtrack provided by www.VIPSquadNation/music --> #FLAsFinest5 | #FreestyleFilez5 <<<

DOWNLOAD THE FULL Florida's Finest 5 MIXTAPE VIA VIPSQUAD DJS SECURE FILE SHARING MediaFire Site -->
http://www.mediafire.com/file/6d4zaz5b5jom5uc/FLAsFinest5_FULL_Final_-_VIPSquad_DJs.zip

Freestyle Filez 5 can be downloaded as well at
http://www.mediafire.com/file/e5wmeigavgsppcp/Freestyle_Filez_5_-_VIPSquad_DJs_FULL_DOUBLE_MIXTAPE.zip
November 2017 -- Celebrating the release of #FreestyleFilez5, a freestyle-based, indie & major artist compilation of the hottest music of the year that corresponds with each release, Florida-based Music & TV Producer Dez Nado also has a new title to celebrate; Head of Promotion & Booking for the 1017 Brand, including Mack Drama Records, Mafia Gang Nation, 1017 Mafia Gang, and 1017 Brick Squad which is Gucci Mane's well-known imprint that has its eyes set on taking over the south east and eventually going global with its expansion. Dez became the newest member of 1017 this past October, off the strength of his noticeably tenacious work ethic and the growth of his brands, including two cable TV series, an upcoming radio show, his music, community initiatives, and his indie concert series, all of which are buzzing from Miami to the DMV. Check out Dez's Wikipedia page https://en.wikipedia.org/wiki/Dez_Nado
Freestyle Filez, which is for promotional use only and protected by fair use copyright laws, is the second mixtape series produced by VIPSquad DJs, a music group under Dez Nado's VIPSquad Entertainment. The mixtape series is less party-based than the more commercial Florida's Finest mixtape series and is more focused on celebrating the art form of hip hop, lyricism, and production, in addition to exclusive freestyles and heavy-hitting, bar for bar tracks from indie and major artists. Florida's finest, on the other hand, features Florida's best artists' original music, and is released during one of the biggest weekends for urban entertainment in the state: The Florida Classic, where hundreds of thousands descend on Orlando to see the two largest HBCUs in the state meet up in an annual football game, culminating in a halftime show featuring Florida A&M and Bethune Cookman University's marching bands. The two mixtape series together have amassed a total play/download count of over 325,000. Quietly, these series are gaining a lot of industry attention and becoming one of the most sought after platforms by both indies and majors. This year's installment includes exclusive content straight from the 2017 #BETHipHopAwards Green Carpet, which was in South Beach Miami, in association with Florida/Georgia-based docu-reality TV series "Life & Grind", executive produced by Dez Nado, who produces both Life & Grind: Duval (airs second Sundays at 6pm on CW17 in south Georgia/north Florida) and Life & Grind: ATL (airs first Sundays at 7pm in Atlanta). Both series were granted red carpet access to the Hip Hop Awards this year as a result of the growing buzz of both brands -- Contact www.facebook.com/VIPSquadDJs or VIPSquadENT@gmail.com for info.
Every September/October, the unofficial BET Hip Hop Awards Weekend mixtape hits the streets of #ATL (or wherever the Awards are) and features the hottest freestyles indie and major. Like the page www.facebook.com/FreestyleFilez & be the first to DL and get the scoop on new exclusives throughout each year. Instagram: @LifeGrindDuval | @LifeGrindATL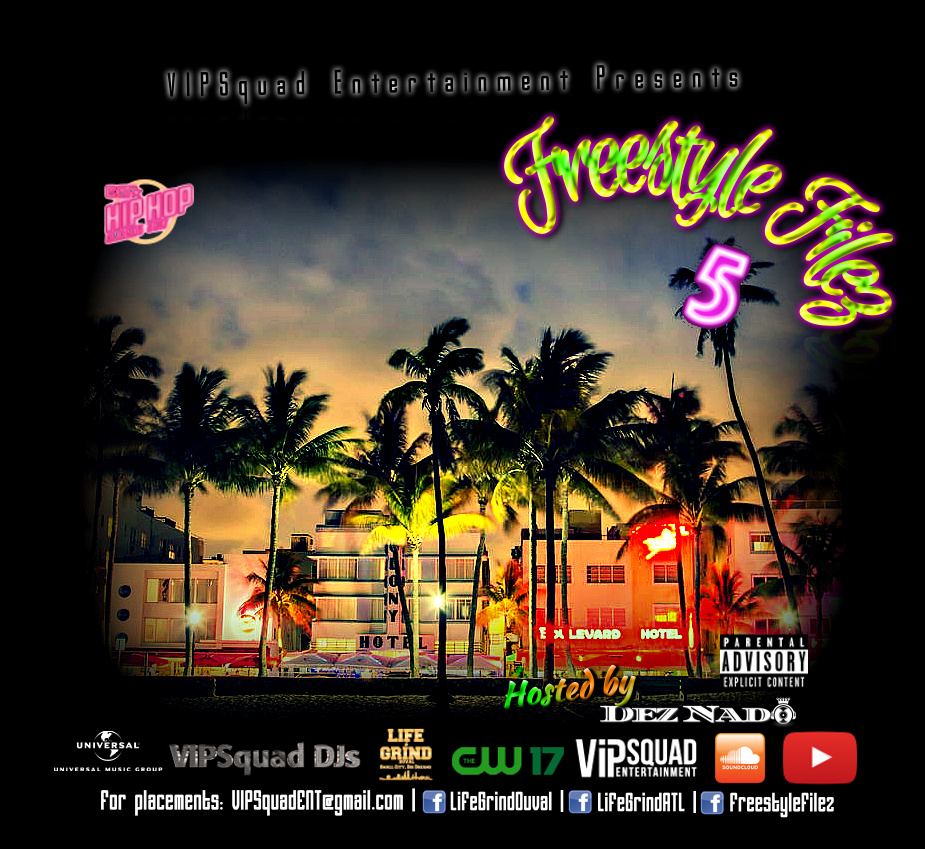 Freestyle Filez 5 -- www.soundcloud.com/FreestyleFilez5 | https://www.247mixtapes.com/mixtape/1472/freestyle-filez-5-live-from-the-2017-bet-hip-hop-awards#gs.BL_sXwQ | www.VIPSquadNation.com/music

01 - Freestyle Filez 5 Eminem - Trump Hip Hop Awards Freestyle x Intro
02 - Freestyle Filez 5 Drag-On, Lil Wayne, Gudda Gudda - North South Freestyle Mash
03 - Freestyle Filez 5 Rick Ross, Lil Wayne, Raekwon – Stunna x My Corner Mash
04 - Freestyle Filez 5 Chris Rivers, Curren$y, Dez Nado, Pnb Rock - Mask Off x Unforgettable x GoldLink Freestyle
05 - Freestyle Filez 5 G Unit, Fabolous, Drag-On, 2Pac, Biggie - Catch A Body x NY Freestyle
06 - Freestyle Filez 5 Meek Mill, Wiz Khalifa, Lloyd Banks - Ws & Ls x Creepin x Reach Out Mash
07 - Freestyle Filez 5 Zoey Dollaz, Ball Greezy, Denzel Curry, Ski Mask Slumpgod, Uncle Luke - 2017 BET Hip Hop Cypher
08 - Freestyle Filez 5 Uncle Luke - Interlude
09 - Freestyle Filez 5 Sy Ari Da Kid, Chris Rivers, Kendrick Lamar, Rapsody - People x 1993 Flow x Power Mash
10 - Freestyle Filez 5 Big Tigga, Myllez, 50 Central Cast, XXXTentacion, Cassidy, Dez Nado - Instabooth BET Hip Hop Awards Freestyle 2017
11 - Freestyle Filez 5 Le$, Drag-On, 2Pac, Madonna, Dez Nado - 4 The Ladies Mash
12 - Freestyle Filez 5 Skyzoo, R-Mean, Method Man, DMX - 1995 Bad Boy Logo x NYC-LA Crazy C Mix
13 - Freestyle Filez 5 T.I., Money Man, G-Slim da Vet - 99 Problems *Classic* South Take Off
14 - Freestyle Filez 5 Nas, Robin Thicke, Mysonne, Game - Stay Woke Mash
15 - Freestyle Filez 5 Tory Lanez, Cassidy, Teyana Taylor, Dez Nado - Winning x Champions x Snap Mash
16 - Freestyle Filez 5 Big L - Harlems Finest *Big L Tribute* ft. Cam'Ron & Mase
17 - Freestyle Filez 5 Jae Millz, Papoose, Lord Tariq, Canibus, Yewmanyeti - Kay Slay x Bang Bang Freestyle
*BONUS TRACK* Black Thought, Common, Pharohe Monch, Absolute – Lyricists Lounge Freestyle
-------------------------------------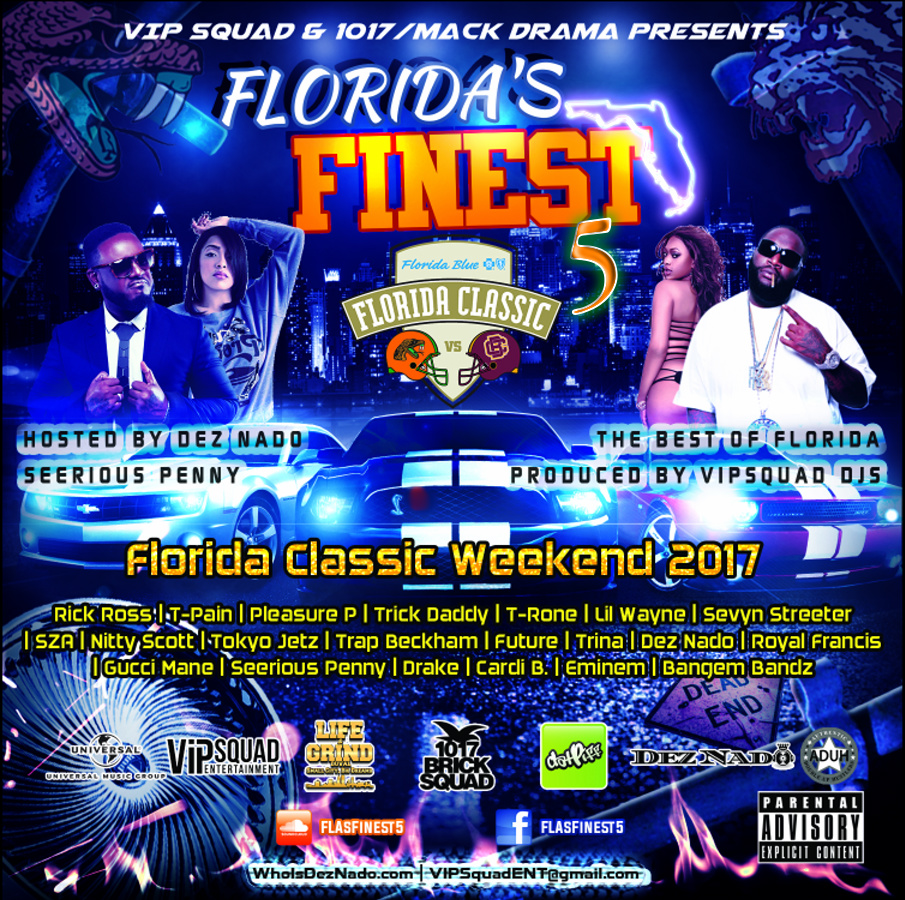 Florida's Finest 5 -- https://spinrilla.com/mixtapes/vipsquad-djs-florida-s-finest-vol-5 | www.VIPSquadNation.com/music (full free DL and stream)

01 FLAsFinest5 Migos - Intro Parody
02 FLAsFinest5 Rick Ross Ty Dolla Sign Yo Gotti Money Man - She Likes Me Juice How It Feel
03 FLAsFinest5 Chris Rivers Cardi B Dez Nado - Mask Off Freestyle x Bodak Soul Spanish Version
04 FLAsFinest5 Tokyo Jetz Rich Homie Quan Rick Ross - 904 to 305 Mix
05 FLAsFinest5 Rick Ross Juicy J Too Short Big KRIT Ace Hood Dez Nado Bangem Bandz - FLA Mix I95 Ride
06 FLAsFinest5 Zoey Dollaz Chris Brown Young Thug The Weeknd - Post and Delete x Macarena x A Lie
07 FLAsFinest5 Lil Wayne Dez Nado Nitty Scott - Man x Last Resort prod by Dez Nado x Pyrex Pink
08 FLAsFinest5 Tory Lanez Trey Songz Sevyn Streeter Bryson Tiller - Wild Thoughts x Dont Mash
09 FLAsFinest5 Trap Beckham DJ Khaled Drake YG Dez Nado - Birthday x Max x F It Up x Just Like Dat
10 FLAsFinest5 Fat Joe Dre Future YG Usher Young Thug - So Excited x XXXTRA Love x Fun
11 FLAsFinest5 Seerious Penny 1017 Interlude
12 FLAsFinest5 Seerious Penny Baka Jermeka Monae - Da Ville x My Name x Dolo Rmx
13 FLAsFinest5 YFN Lucci Plies Zoey Dollaz Future Tory Lanez K Star HD100 Dez Nado - After Hours Mash
14 FLAsFinest5 Ace Hood Samme Rick Ross Gucci Mane Rice Love - The Come Down Mix
15 FLAsFinest5 Uncle Luke - 2017 BET Hip Hop Awards
16 FLAsFinest5 Trick Daddy Trina dvsn Partynextdoor Lankdizzim - Smooth Sailin x Dont Choose 1942 x Abundance
17 FLAsFinest5 Pitbull A1 Chris Brown Ty Dolla Sign Yo Gotti Dez Nado - After Party Mash
18 FLAsFinest5 Wale T-Pain Pitbull Pleasure P Shifta Popeye Caution WizKid - Massive Post Ting Mash
19 FLAsFinest5 Nitty Scott Sean Paul Cardi B Konshens - Diaspora Mix
20 FLAsFinest5 Haitian Fresh Mavado Jahmiel Vybz Kartel Buju Banton - Flaribbean Rideout
21 FLAsFinest5 Dez Nado Ayo Jay Chris Brown Chronixx Masicka Sean Paul Popcaan - RaggaMash I
*BONUS TRACK* 22 FLAsFinest5 KDiva E Snaps Selfmade DOLO IQ aka Infamous Dez Nado - DUVAL Rideout II
*BONUS TRACK* 23 FLAsFinest5 T-Rone Swordz T Pain Dez Nado Urban Champ SB DUVAL Super Bowl Ride Out
*BONUS TRACK* 24 FLAsFinest5 Kraiz Mikaze Beast Boy DUVAL Super Bowl Ride Out II
Instagram @LifeGrindATL | @LifeGrindDuval | @deznado (host & Head of Promotion at 1017 Brick Squad) www.facebook.com/LifeGrindDuval
www.Facebook.com/VIPSquadENT | www.Facebook.com/VIPSquadDJs
www.Facebook.com/DezNado | www.Facebook.com/LifeGrindATL | www.Facebook.com/VIPSquadENT
www.pr.com/press-release/652118 | https://en.wikipedia.org/wiki/Dez_Nado
https://www.eventbrite.com/o/dez-nadovipsquad-ent-13086474542