UGCY Uplifts London officially supported by Westfield, Stratford

Saturday, 22 September 2012 from 09:40 to 14:00 (BST)
Event Details
Join us as we Uplift London in a record breaking attempt during the London Week of Peace!
***ATTENTION***
CALLING ALL SINGERS, GOSPEL CHOIRS, OFFICE CHOIRS, CHURCH CHOIRS, MUSIC GROUPS, YOUTH GROUPS, YOUTH LEADERS, GOSPEL ORGANISATIONS, SCHOOLS, UNIVERSITIES AND COLLEGE STUDENTS FROM ALL BACKGROUNDS ACROSS THE UK!!   
A year on from the London riots, 2012 has been one of the most exciting years in the history of the city of London, with the spotlight on our city and Olympic events hosted in various London areas. People across our country have been inspired to reach for the stars!

*Want a chance to be part of an historic event?*
On Saturday 22nd September, Westfield Stratford have given us the opportunity to form the:
Largest Gospel Choir in the WORLD
Over 1000 singers will come together to perform the "Sister Act 2" inspired "Oh Happy Day". Though our target group is the 16 -25 age range, we are welcoming singers from all walks of life - what a chance to showcase the Gospel and bring unity to Londoners at the largest shopping centre in Europe! 
"UGCY Uplifts London" will be directed by one of the industry's finest, Mark De Lisser who is vocal coach for BBC's The Voice and the founder of the ACM Gospel Choir, who appeared on the BBC's Last Choir Standing! This event is supported by YACnCAY and Channel 4's Emmy Award-Winning Battlefront who will be in attendance to celebrate the London Week of Peace for this momentous occasion!
We cannot do this alone! We need your help! If you are interested and want to take part, please sign up via one of the following options:
1. Premium – Those who opt for the premium package will receive a UGCY Uplifts London T-shirt and will be entitled to exclusive range of discounts being offered by some of the retailers in Westfield, Stratford City, worth over £50! To claim your offers, simply present your UGCY T-shirt to any of the participating stores on the day. This offer has been extended but for a limited time only.
2.  Basic – Sign up for free! All you need to do is complete the registration form and ensure that you bring along a plain white t-shirt/top on the day and you will be eligible to participate for the event. This package does not include exclusive discounts/vouchers being offered by some of the retailers at Westfield, Stratford City.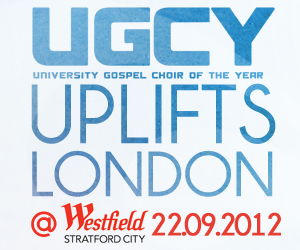 _
Registration will close on 14th September in order for us to send further information about the event. This will include the music requirements for the performance for rehearsal purposes, detailed plan/description of the event/day, collection point for those who have purchased Participator's T-shirts and everything else you need to know! 
SIGN UP NOW, LIMITED REMAINING SPACES AVAILABLE ON A FIRST COME FIRST SERVED BASIS!
Also check out our fantastic promo video courtesy of Claudia Sophia. Share and enjoy!
All we need is your voice for one afternoon to make HISTORY!
DUE TO DEMAND, REGISTRATION PERIOD EXTENDED FOR A LIMITED TIME ONLY
When & Where

Westfield, Stratford City




Saturday, 22 September 2012 from 09:40 to 14:00 (BST)
Add to my calendar
Organiser
University Gospel Choir of the Year (UGCY)
University Gospel Choir of the Year (UGCY) is an annual competition that aims to bring together talented individuals through music.
Backed by the Mayor of London and the former Higher Education Minister, David Lammy, UGCY is a voluntary Organisation providing an unprecedented platform for University Gospel Choirs across the UK to develop and showcase their gospel musical abilities. It is an annual competition that aims to bring together talented and diverse individuals through music, encouraging them to strive for excellence and exceed their own limitations, whilst inspiring the young and old in all walks of life.
Emulating the well known movie classic - "Sister Act 2 - Back in the Habit" and fusing together elements of the national TV phenomenon – The X Factor, UGCY provides choirs and spectators alike with the opportunity to experience a spectacle whilst embracing the melodic, warm, uplifting and motivational atmosphere that the choir sound produces.
During 2011, UGCY also had the opportunity to work with the national TV phenomenon – The X Factor, by providing them with our finalist choirs to support their contestants on a number of occasions – testament to UGCY's fast growing profile.
On July 20th 2012, UGCY held its 2nd annual event at the 1000 seater Peacock Theatre in the heart of London's west end, once again in aid of Leukemia and Lymphoma research. Joined by 2 special guest performers from BBC's The Voice and exceptionally hosted by the sensational songstress Rachel Kerr and the X Factor 2011 finalist – Ashley John Baptiste, UGCY 2012 was certainly a show to remember! Manchester University's Harmony Gospel Choir took the crown as UGCY 2012 winners and we all look forward to what is set to be a remarkable year for them as our winners. Since winning they have already been featured on BBC Radio 2's – Good Morning Sunday show. See their performance here: http://youtu.be/BRLh5H7PsSI 
We plan to hold our next event/project in September 2012 at Westfields, Stratford City, during London Week of Peace.
For more information about us please check our website www.UGCY.co.uk
UGCY Uplifts London officially supported by Westfield, Stratford