UF/IFAS Extension: Traveling Tree Walk

Multiple Dates
Event Details
Current locations:
Brooker Creek Preserve (3940 Keystone Road, Tarpon Springs, FL 34688)

Boyd Hill Nature Preserve (1101 Country Club Way South, St. Petersburg, FL 33705)
What is the Traveling Tree Walk?
The Traveling Tree Walk identifies various trees found in Pinellas County and lists benefits or ecosystem services these trees provide.
Ecosystem services are benefits people obtain from ecosystems. By placing a value on these services, economists are able to compare the value of undeveloped land such as a park or preserve to developed land such as a shopping mall or apartment complex.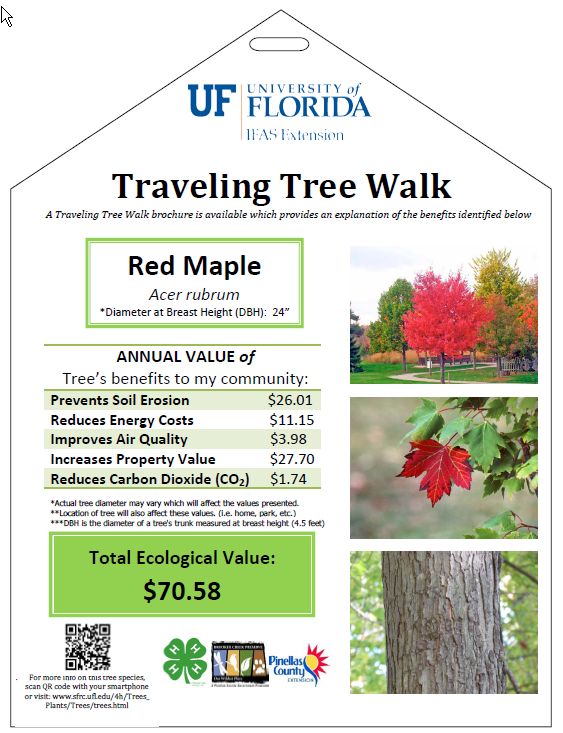 Want to reserve the Traveling Tree Walk for your community?
You have come to the right place! The Traveling Tree Walk is hosted at various sites throughout Pinellas County for three-month periods. If you want to reserve the Traveling Tree Walk for your community, simply, select the time period from the drop-down menu above and complete the registration. Lara Miller, UF/IFAS Natural Resources Extension Agent will be in touch with you to coordinate sign and brochure delivery and answer any questions you may have.
Why host the Traveling Tree Walk?
The Traveling Tree Walk is a fun and educational project designed to educate citizen about the value and importance of trees. The value of large forested area is more evident than a tree in an urban setting, but the Traveling Tree Walk proves that even one lone tree provides our local community with a lot of benefits. It is a great way to help citizens establish a connection with their environment and realize that trees can be more valuable that one might think. 
Traveling Tree Walk Supplies
You will receive a total of six signs for the following trees:
-Laurel Oak
-Live Oak
-Longleaf Pine
-Red Maple
-Water Oak
-Bald Cypress
-Southern Magnolia
-Pignut Hickory
-Slash Pine
-American Sycamore
-Eastern Redcedar
You will also receive a stack of Traveling Tree Walk brochures which explain the project in-depth. 

Organizer
Brooker Creek Preserve Environmental Education Center - Pinellas County Extension
Pinellas County Extension at Brooker Creek Preserve Environmental Education Center is proud to offer a variety of educational and interpretive programs for the public. The goal of these programs is to empower citizens to make informed decisions about natural and cultural resources. Center programs interpret the natural and cultural history of the area in order to demonstrate the balance between our needs and the needs of natural Florida. For more information please call (727) 453-6800.
CENTER HOURS: Thursday-Saturday 9:00 a.m. - 4:00 p.m.
NEW! Sunday 11:00 a.m - 4:00 p.m.
Like us on Facebook!