UF Master Beekeeper Program Training & Testing -Spring 2019
Description
The spring 2019 University of Florida Master Beekeeper Program (MBP) training and testing day will be held for the Advanced, Master, and Master Craftsman levels of the MBP. Please note that the Apprentice level will not be offered in person. If you are interested in joining the MBP, you can find more information here: http://entnemdept.ufl.edu/honey-bee/extension/master-beekeeper-program/
Click here to read complete details of the in-person program (Advanced and higher levels), including test structures and content (Appendix F).
You can submit documentations of your credits prioir to the training and testing day by email or mail:
Honey Bee Lab, 1881 Natural Area Dr., Gainesville, FL, 32611
Alternatively, you can submit your documentation in person on March 7th. You do not need to have completed all of your public service, core, and major credits to test for the next level; however, it must have been at least one year (or two years for the Master Craftman level) since you last advanced in the program. For example, you can only take the Master exam this fall if you became an Advanced beekeeper on or before March 7th, 2018.
What to expect:
This training and examination day consists of two parts. In the morning (8:00 AM–12:00 PM) there are review lectures on important beekeeping topics. After lunch (provided) there are written and practical examinations (1:30 PM–5:30 PM). Please note, these training lectures are not comprehensive. Students are responsible for studying the materials listed on the reading lists for their level (MBP Requirements, Appedix E).
See full schedule below: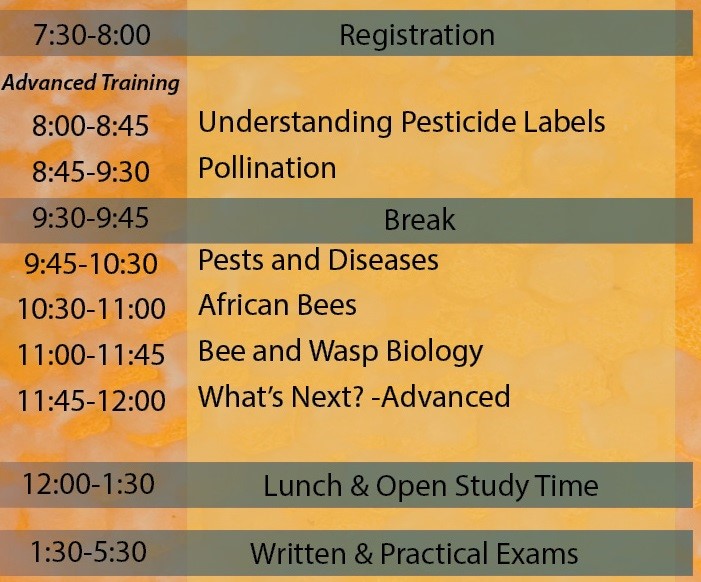 Additional information:
If you would like to take part in the training sessions, but do not plan to test this spring, you may register for the morning training sessions only at a discounted rate.
Late registrations will incur an additional $10 fee.
If you have a physical or learning disability and may need assistance taking the examination, please email honeybee@ifas.ufl.edu before the testing day so that we can accommodate your needs.
Refund requests will be honored in full if submitted prior to February 16th. On or after February 16th, all cancellations will be charged a fee of $20.
Those testing for the Master Craftsman level must notify the MBP board (honeybee@ifas.ufl.edu) at least one month before the test date.