UEN November Meeting - Evolutionary Entrepreneurs

Friday, November 18, 2011 from 8:00 AM to 9:30 AM (PST)
Event Details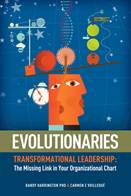 Title: Evolutionary Entrepreneurs!
Speaker: Carmen Voilleque, Principal, Strategic Arts & Sciences
Description: Evolutionary Entrepreneurs are the hidden heroes primed to help America manage its way out of the Great Recession. This is because Evolutionaries drive the kind of transformational change we need in today's business climate to grow stronger teams, create better partnerships, and drive organizational innovation. We know we depend on these creative, dynamic, and visionary leaders – but what does it take to succeed as an Evolutionary Entrepreneur?
In this session you will learn what it takes to make your business work, how to strategize and plan for an uncertain future, and how to build the kind of teams and partnerships that will leverage the potential of your ideas and your business. Based on the book EVOLUTIONARIES by Carmen Voilleque and Randy Harrington, this entertaining and informative session will showcase wisdom from some of the best modern Evolutionary leaders in the world—from Bluetooth, Nike, Microsoft, the Navy SEALs and several innovative leaders from Oregon.
Learning Outcomes:
· How Evolutionary Entrepreneurs are different from other business leaders and why they have a better chance of success in today's transitional economy
· How to plan your Evolutionary strategy for the future
· What Evolutionaries do to find the next "BIG idea" and how you can do it too
· How to build Evolutionary teams and partnerships to drive your business forward and bring your innovative ideas to life.
http://www.be-evolutionary.com
When & Where

Unity Church
705 SE Parkcrest
Suite C340
Vancouver, WA 98664


Friday, November 18, 2011 from 8:00 AM to 9:30 AM (PST)
Add to my calendar
Organizer
The Urban Entrepreneurs Network (UEN) is a Business Networking group for Multicultural Entrepreneurs, Small Business Professionals, and creative Start-Ups. We are privileged to work with those who not only share the desire to make something meaningful, but also enjoy the journey along the way. 
Other Brands include Mosaic Blueprint, Mosaic Metier and iUrban Teen