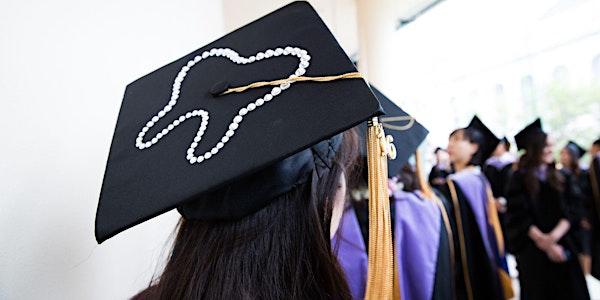 UCSF School of Dentistry Commencement 2023
Commencement is a celebratory event — culminating our learners' commitment to completing DDS and DDS/PhD degree programs.
By UCSF SOD Dean's Office
Date and time
Monday, June 12 · 11am - 1pm PDT
Location
Herbst Theatre 401 Van Ness Avenue San Francisco, CA 94102
About this event
We are approaching the culmination of the dentistry learner journey and are excited to celebrate the completion of the DDS and DDS/PhD degree programs. Our intensive program has bred balanced dental leaders ready to serve the community. Come celebrate with us!
Graduates are welcome to register seven guests; each guest can present their tickets at check-in via mobile. At check-in, guests, have a completed UCSF daily screener to receive a wristband to enter. The commencement lasts about 1.75 hours with no reception to follow. Graduates and their guests are welcome to convene in the large public lobby or at the plaza after the ceremony where selfies and photos with friends and family can be shared on social media using the hashtag #UCSFGrad or #UCSFDDS2023 and tag @UCSFDentistry on Instagram or Twitter. The event will be live-streamed for remote guests.
Guests are required to wear a mask covering their nose and mouth indoors. On the day of the event, graduate guests must complete the UCSF Vendor & Campus Guest Daily Health Screener on their computer or phone.
The deadline to submit your RSVP is May 24, 2022
Schedule Guideline:
Monday, June 12, 11:00 AM
Herbst Theatre (Veterans Building, 401 Van Ness Avenue)
Arrival time for GRADUATES: 8:15 AM
Class photo will be taken at 9:00 AM
Arrival time for FACULTY: 9:30 AM
Arrival time for GUESTS: 9:40 AM
The ceremony begins: 11:00 AM (will conclude at approximately 12:45 PM)
*Covid guidelines may change and we will communicate via email if modifications are made.
UCSF adheres to the San Francisco Department of Public Health COVID-19 health requirements. In some instances, our requirements are more stringent given UCSF's unique role as an academic, medical, and research enterprise. Any event plan is conditional based on current public health orders and conditions. 
New Covid Guidelines per University policy.
1. Masking is mandatory for all individuals, with the exception of faculty, staff members on stage, and students during their procession on stage.
2. Guests and employees are required to complete a digital screener to assess their health status. Access the guest screener at this link: [https://ucsf.co1.qualtrics.com/jfe/form/SV_d6elP7DE78J4oFT]. We encourage you to explore the screener now.
3. Hand sanitizer will be provided for personal hygiene purposes.
4. Attendance records will be maintained through the digital screener and Eventbrite guest list.
Considering that the current screener does not inquire about vaccination status, it is recommended not to implement vaccination verification or mandatory testing for unvaccinated guests.
Below you will find COVID safety requirements and guidance. Please be sure to read this to your guests so that they will be in compliance.
Masks
Well-fitting masks are required for all attendees age > 2 years. (Surgical masks or N95 masks are recommended.) Masks must be well-fitted and cover the nose, mouth, and chin. A Well-Fitted Mask does not include a scarf, ski mask, balaclava, bandana, turtleneck, collar, single layer of fabric, or any mask that has an unfiltered one-way exhaust valve.
NO FOOD OR DRINKS ARE ALLOWED.
UCSF Daily Health Screener
All event attendees must complete the UCSF Daily Health Screener on the day of the event and show their "Cleared" screen at the venue. Guests must complete the UCSF Campus Visitor and Guest version of the screener: http://tiny.ucsf.edu/vendorscreen; Attendees can screenshot their "Cleared" screen to show at the venue.
Guests are encouraged to familiarize themselves with restrictions related to recent COVID infection, exposures to someone with COVID, and international travel by visiting here: https://coronavirus.ucsf.edu/ or by taking the screener in advance.
We highly recommend that everyone takes COVID rapid antigen test on the day of the event and take a picture of the results.
The UCSF Health screener can be completed daily, and the results are good for 24 hours. If your guests are unsure of their status, and if they may fail, take the screener daily for several days prior to the event to know if testing is needed.