UCSF Health COVID-19 Vaccination Drive-Through Clinic for age 75 and over
This is a joint venture with the City of San Francisco to distribute COVID-19 vaccines to those age 75 and over. BY APPOINTMENT ONLY.
About this event
PLEASE READ THIS INFORMATION CAREFULLY:
In order to register for a vaccination appointment, you must be 65 years or older (proof of age required upon arrival).
You must arrive in a vehicle (this is not a walk-in clinic) and everyone in the vehicle must be wearing a mask. If you take a ride share, please remain in the vehicle.
Please show up at the date/time you select, those who show up late may not receive a vaccination. After your vaccine is given you will need to wait in your car for 15 minutes for observation.
As you complete your registration, you will have the option to choose a time slot for your appointment. You may only arrive at the time you choose. Not all times may be available. Time slots that are full will display 'sold out'.
YOUR RESERVED TIME IS LISTED ON YOUR CONFIRMATION: We strive for efficiency, but you may experience a wait time, please be prepared. Registration is based on a first-come, first-served basis.
APPOINTMENTS ARE NON-TRANSFERABLE: Only those registered may receive a vaccination. Do not lose/delete your confirmation-you will need to present it upon check-in. Printed or electronic confirmations will be accepted. Any altered confirmations will not be accepted.
ALL APPOINTMENTS ARE FREE: Vaccinations are provided at NO COST to you.
Due to supply, vaccines are limited. If you are not able to secure an appointment today, please be patient, there will be additional opportunities available - please return as more dates/times are released .
For more information about the UCSF COVID-19 Vaccine Information Hub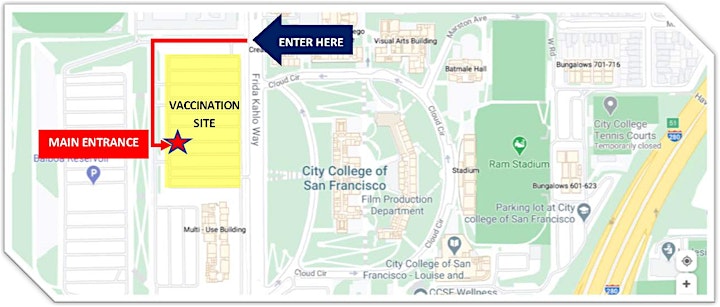 Organizer of UCSF Health COVID-19 Vaccination Drive-Through Clinic for age 75 and over