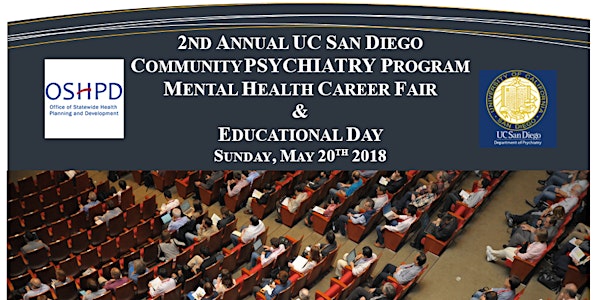 UCSD Community Psychiatry Mental Health Career Fair & Educational Day
Location
Jacobs Center For Neighborhood: Jacobs Valerie
404 Euclid Avenue
San Diego, CA 92114
Description
The UC San Diego Department of Psychiatry's Community Psychiatry Program is proud to present the 2nd Annual Mental Health Career Fair and Educational Day! Come and learn about the various careers in the mental health field. During this conference, UCSD Community Psychiatry Program will facilitate a supportive experience for students of all backgrounds to gain a better understanding of mental health careers, the education paths required to pursue careers in mental health, and resources available to finance the necessary education paths.
Join us for an exciting day full of interactive workshops, engaging presentations, networking, and a complimentary luncheon with keynote speakers. Meet and network with organizations, professionals, distinguished industry and community leaders in the mental health career field!
Each attendee will have the opportunity to network with professionals working in the field such as psychiatrists, social workers, psychologists, marriage and family therapists, psychiatric nurses, drug and alcohol counselors, and many more!
Additionally, each attendee will be provided with materials describing financial resources available to them such as current scholarship opportunities, grants, loan repayment program and more.
To reserve your free seat, please fill out the brief pre-event survey below!