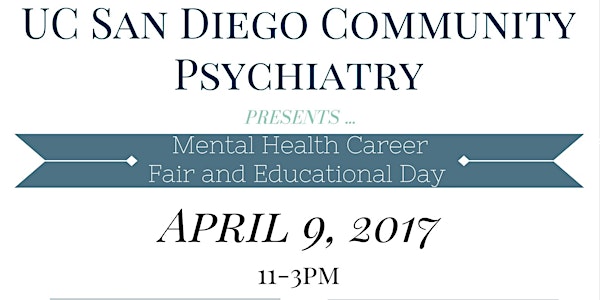 UCSD Community Psychiatry Mental Health Career Fair and Educational Day
When and where
Location
Vicino Ballroom Hyatt Regency La Jolla 3777 La Jolla Village Drive San Diego, CA 92122
Description
Join us for an exciting afternoon with FREE LUNCH!
The UCSD Career Fair and Educational Day will promote careers in the mental health field. The fair will provide a supportive experience for students of all backgrounds to gain a better understanding of mental health careers, education paths, and resources available to them.
Through the Fair, attendees will gain exposure to the many career paths within the mental health system. Participants will be able to network with professionals, such as psychiatrists, psychologists, psychiatric nurses, social workers, marriage and family therapists, and drug and alcohol counselors, peer supports, medical assistants, and counselors. Attendees will be provided with materials describing the positions and education required for each career.
The Fair will allow attendees to learn about the financial resources available to them. Students will be presented with materials to assist them in applying for scholarships and loan repayment programs. Students will also be encouraged to review applications, understand important concepts, and feel comfortable in completing application paperwork.

Come meet with the different organization and distinguished community leaders!
If you plan to attend this event, please fill out the brief pre-event survey below!