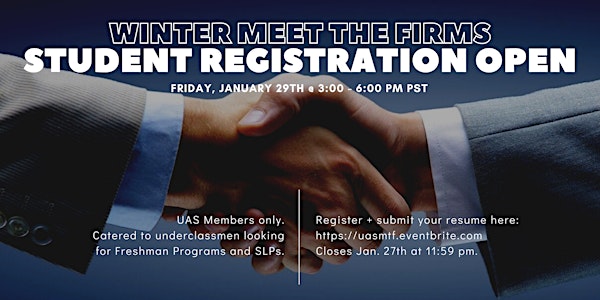 UCSB UAS Winter Meet the Firms 2021— Student Registration
Winter Meet the Firms, held virtually, connects accounting students with a variety of firms and professionals.
About this event
Meet the Firms is the largest accounting recruiting event at UCSB, connecting hundreds of UCSB students interested in the accounting profession to a wide variety of accounting firms and professionals.
This Winter, Meet the Firms focuses on Freshman Program and Summer Leadership Program candidates.
This event is one of the most important events to attend if you are a first or second year student, as it helps with obtaining an internship in later years. Meet the Firms allows students and professionals to mingle together and for each party to gain a sense of familiarity with one another. It is crucial to get face time and meaningful conversations with as many professionals as you can.
You need to be a current UAS annual member to participate in Meet the Firms. You may purchase a 2020-21 UAS membership for $15 through Eventbrite (found on our Eventbrite profile or our website) before registering here for Meet the Firms.
More information about how we will be holding it over Zoom will be sent out to those who register here!
**************************FAQ**************************
What is the dress code for the event? The dress code for this event is business professional. 
When is the last day to purchase tickets for the event? The last day to purchase tickets is Wednesday, January 27th at 11:59 pm. However, if we receive a high volume of registrations, we may close registration early.
What firms will be in attendance? As always, we expect the Big 4, a wide range of mid-tier firms, and local forms to attend. A detailed list of attending firms will be updated to our website and social medias. Stay tuned!
What should I bring? Attendees should have a link to their resume ready to send during the event. A pen and paper for notes should also be kept handy.
Is the ticket refundable? Since there is no specific fee for Fall Meet the Firms, there are no refunds. However, if you sign up and then find that you cannot attend afterwards, you must let us know. The firms will be made aware of the students who registered for Meet the Firms but failed to show up.
What if I'm a student attending on behalf of a firm (i.e. a Campus Ambassador)? Campus ambassadors do not need to register if their firms have already purchased a ticket.
For more detailed information about Winter MTF 2021, please visit our website: http://www.ucsbaccounting.com/winter-meet-the-firms.html
If you have any questions, email communications.ucsb.uas@gmail.com.