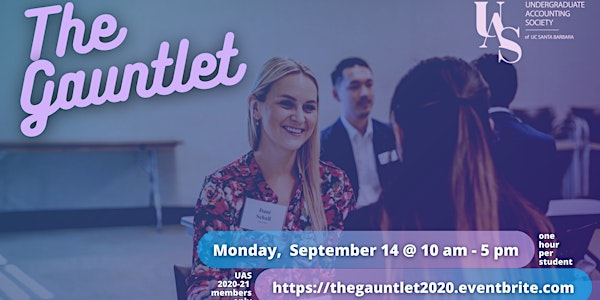 UCSB UAS Gauntlet 2020
The Gauntlet, held virtually this summer, is a great way for students to get feedback from accounting professionals before Meet the Firms.
About this event
The Gauntlet takes place on September 14, two weeks prior to the beginning of Fall Quarter, and is meant to be an event where students can get exposure to the main components of the recruiting season in a low-pressure environment. The event is staffed by accounting professionals (the same ones who will be attending the Meet the Firms event). Thus, the event is invaluable in that it gives you face-time with many accounting professionals in an environment where mistakes or unrefined resumes are completely acceptable. The event is one hour long per time slot, split into 3 stages for 20 minutes each: Resume Critique, Mock Meet the Firms, and Mock Interview.
You need to be a current UAS annual member to participate in The Gauntlet or Meet the Firms. You may purchase a 2020-21 UAS membership for $15 through Eventbrite (found on our Eventbrite profile or our website) before registering here for the Gauntlet.
After registering on Eventbrite for the Gauntlet, you should receive an email with a link to a form, in order to sign up for a specific time slot. You must fill out the Google Form to secure your spot in the Gauntlet. If you do not get an email, please reach out to communications.ucsb.uas@gmail.com. If you find that you are not available during any of the remaining time slots, reach out to us to cancel your registration. We have limited slots, so please do not sign up for the Gauntlet unless you are absolutely certain you will attend. The firms will be aware of the students who RSVP'd but were no-shows for the event.