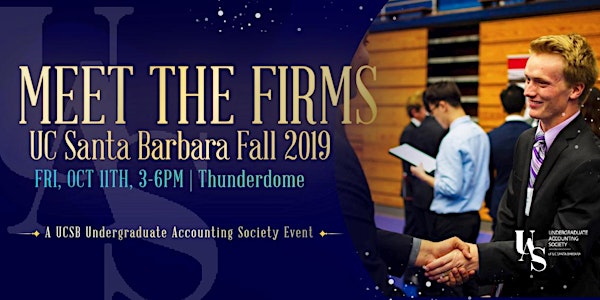 UCSB Meet the Firms 2019 - Student Registration & Ticket
Location
The Thunderdome
University of California, Santa Barbara
Isla Vista (UCSB Campus), CA 93107
Description
Meet the Firms is the largest accounting recruiting event at UCSB, connecting hundreds of UCSB students interested in the accounting profession to a wide variety of accounting firms and professionals.

For the first time UCSB will host two Meet the Firms this academic year. The upcoming Meet the Firms focuses on students seeking internships and full-time positions. The second Meet the Firms, in the winter quarter (January), focuses on Summer Leadership Program candidates.
---
**************************FAQ**************************

What is the dress code for the event?
The dress code for this event is business professsional.
When is the last day to purchase tickets for the event?
The last day to puchase tickets is Wednesday, October 9th, at 11:30PM.

How does parking and transportation work?
Since the event will be hosted in the Thunderdome this year, we hope transportation will be easier. If needed, we strongly encourage all attendees to carpool. There will not be a special source of transportation provided.
What firms will be in attendance?
A detailed list of attending firms will be updated to our Facebook event page. Stay tuned!
What should I bring?
Attendees should bring several copies of their resumes, a padfolio, pen, and a readiness to network!
Is the ticket refundable?
Unfortunately, due to to the high volume of registrations we must process each year, tickets will not be refunded. Please be sure that you are able to attend Meet the Firms on the specified date at the specified time in Santa Barbara.
What if I'm a student attending on behalf of a firm (i.e. a Campus Ambassador)?
Please check with your firm to see if you are responsible for purchasing your own ticket, or if they have already included you in their count. This may change from firm-to-firm so please clarify with your firm before purchasing a ticket.

For more detailed information about MTF 2019, please visit our website: http://www.ucsbaccounting.com/meet-the-firms.html