Description
Join us and participate in the second annual Alumni Day of Service!
What is the Day of Service?
No Matter Where You Are
No Matter What Your Passion
Together Gauchos Give Back and Make the World a Better Place!

On February 23, 2019, we want to unite all Gauchos throughout the United States, and the world to participate in a day of giving back to your community. We encourage you to find a volunteer opportunity in your area that is meaningful to you and spend anywhere from one to a few hours giving back.

Register here and tell us what act of service you will participate in on February 23rd and we will send you a Gauchos Give Back t-shirt to wear on the day (S-XXXL). Post a picture of yourself wearing your t-shirt on social media using the hashtag #GauchosGiveBack and email your photo to programs@alumni.ucsb.edu including your name and class year.
T-shirts available while supplies last when you register by February 15, 2019. If you register later, you are highly encouraged to show Gaucho pride in your UCSB apparel.
You can find Gauchos in every US state and corner of the globe. Opportunities to volunteer with other Gauchos in several metropolitan areas will be added in the coming months. Stay tuned for details.


---
Regional Events - Check back, more Gaucho organized events to be added
Indicate your project of interest in the registration form, and you will be contacted by the organizer closer to the date.


United Kingdom
London, England
Clean Up Norbury Brook
Time: 11:00 a..m. - 2:00 p.m.

Location: Norbury Brook,
Manor Farm Nature Space is located on the corner of Manor Farm Road & Norbury Avenue. Meet at the entrance on Norbury Avenue, SW16 3RN
Contact Claire Frost for more information or to sign up at cafrost@gmail.com
Join in the fun at Manor Farm Nature Space. Have a great day outdoors and encourage wildlife to thrive by helping us clean out Norbury Brook and Manor Farm Nature Space. Get involved and be part of developing this great green space into an environment that all local people can enjoy by trying out urban gardening activities.
United States
Los Angeles, CA
"I Heart Trees" Morning Planting Event

Time: 8:00 - 11:00 a.m.

Location: Van Nuys/Sherman Oaks Rec Center

14201 Huston Street, Los Angeles, CA 91423
Volunteers will plant trees with the organization City Plants to improve our green canopy environment in LA.
#HashtagLunchbagLA
Time: 10: 00 a.m. - 1:00 p.m.

Location: The Parlor

7250 Melrose Avenue, Suite 1, Los Angeles, CA 90036
The volunteer group will create bagged lunches, drop in a handwritten love note acknowledging the recipient of the bagged lunch, and distribute meals to the local communities. Living through Giving Foundation is the chief organizer of the event.
"I Heart Trees" Afternoon Planting Event
Time: 2:00 - 5:00 p.m.

Location: Lanark Recreation Center

21816 Lanark Street, Los Angeles, CA 91304
Volunteers will plant trees with the organization City Plants to improve our green canopy environment in LA.
Note: Online registration is now full for the morning event, but you can still show up as a walk-in.
Orange County, CA
Ole OC Balboa Beach Cleanup
Public Volunteer Service Day with the Bolsa Chica Conservancy
Time: 9:00 a.m. - 12:00 p.m.

Location: Bolsa Chica Conservancy


3842 Warner Avenue, Huntington Beach, CA 92649
Volunteers will restore and maintain the Bolsa Chica Wetlands including but not limited to the following responsibilities: plant removal, debris disposal, and plant installation.
Phoenix, AZ
St. May's Foodbank
Time: 12:00 - 2:00 p.m.

Location: 2831 N 31st Ave, Phoenix, AZ 85009
Please also sign up on St. Mary's website: https://www.firstfoodbank.org/get-involved/
Portland, OR
8:45 am Argay, Parkrose, Parkrose Heights, Russell, Wilkes neighborhood planting (E Portland)
Time: Saturday, February 23, 8:45 a.m. - 1:00 p.m.

Location: Parkrose UCC, 12505 NE Halsey St., Portland, OR 97230, USA Neighborhood Trees Events (map)
Join us in planting trees as a volunteer. Dozens of large (6-10' tall) trees will be ready for planting in their new homes across these neighborhoods, and your help is what makes this community planting possible!

Please arrive by 8:45 a.m. to sign-in and enjoy some breakfast snacks and coffee, tea, or hot chocolate. The planting starts promptly at 9:00 a.m. We provide gloves, tools, and guidance, so all you need to do is show up dressed for the weather and wearing sturdy shoes or boots – and be ready to have fun! Our neighborhood volunteers will also provide a potluck lunch for all volunteers after the planting is complete.

How do I register? First, register on the UCSB Alumni Day of Service site, and we will aim to register as a group with Friends of Trees.

Have a pickup truck? We need your help getting these young trees to their planting sites a few blocks away from the central staging site. Please sign up at www.friendsoftrees.org/truck if you're able to help us out in this vital role.
San Diego, CA
Ole SD Beach Clean Up
Time: 10:00 a.m. - 12:00 p.m.

Location: Mission Bay Tecolote Shores
We will begin at Mission Bay Tecolote Shores and head over to East Fiesta Island (there's no parking lot at the entrance to Fiesta Island anymore, so this is next best alternative). This is a kid friendly event and children's gloves will be provided.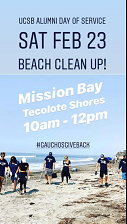 San Francisco, CA
Ole SF Palace of Fine Arts Park Beautification
Time: 9:00 a.m. - 12:00 p.m.

Location: 3601 Lyon St. & Marina Blvd
The work you are doing is important!
Pulling weeds, and mulching limits the use of sprays.
Clean-ups improve the quality of life in neighborhoods.
Volunteers with an understanding of park needs contribute to a supportive and informed constituency.
Volunteers attract other forms of support—in-kind donations of services, supplies, and grants.
Fill out a waiver http://bit.ly/sfrpdvolunteerwaiver by Saturday, February 16th at noon.
San Jose, CA
Park Beautification event at Hellyer County Park
Time: 9:00 a.m. - 12:00 p.m.

Location: Hellyer County Park, 985 Hellyer Ave San Jose, CA 95111
Please note additional steps to register:
(1) Create an account on the website http://bit.ly/2We21Lx
(2) While you sign up, choose to be a part of the UCSB Alumni group
(3) Click sign up with your account and sign a waiver
To park within the park, every person driving should print and bring the volunteer parking pass provided when you sign up. This 178-acre urban park is located in the heart of Santa Clara County's regional park system. The Coyote Creek, which meanders through the center of the park, is the focus of the park's natural environment. Thick undergrowth and tall trees characterize the well-defined creek channel which is home to many different species of wildlife.
Santa Barbara, CA
Foodbank of Santa Barbara County
Time: 9:00 a.m. - 12:00 p.m.

Location: Full meeting location and parking instructions will be included in your confirmation email upon registration with the link below.

Event lead: Lynn Goebel lgoebel@lgfamilylaw.com

In partnership with the UCSB Alumni Annual Day of Service, all Gauchos, past and current, are invited to join us for a harvest of citrus in Santa Barbara!

Come join the Backyard Bounty team to glean fresh, local citrus. A wonderful opportunity to get involved with local agriculture, learn about a new fruit or vegetable, meet new people, and give back to your community!

*This IS NOT a kid-friendly event!
Gervitz School at United Boys and Girls Club of Santa Barbara
Time: 9:00 a.m. - 12:00 p.m.

Location: 5701 Hollister Ave., Goleta, CA 93117
Projects needed help with include painting, interior design with current furniture, gardening, storage organization, and more!
"Looking Good Santa Barbara" Litter cleanup
Time: 10:00 a.m. - 12:00 p.m.

Location: Bohnett Park, 1251 San Pasqual St., Santa Barbara, CA 93101
Looking Good Santa Barbara (LGSB) is a City of Santa Barbara program joining residents, City staff and community representatives with the mission to reduce waste (reduce, reuse, recycle and compost) and contribute to a clean community through graffiti and litter abatement. LGSB is a local affiliate of Keep America Beautiful and Keep California Beautiful.

Los Padres Forest Trail Restoration
Time: 9:00 a.m. - 12:00 p.m.

Location: E. Camino Cielo
We will be partnering with the Los Padres Forest Association to perform trail work in the wake of the Thomas Fire.
We will be meeting at 9:00 a.m. on East Camino Cielo. We will be working Tunnel Trail and meeting on Angostura Pass. We will be working for approximately 3-4 hours. If you need to leave before we're done, that's just fine! The day aims to have fun while making a positive impact on one of our local trails. Expect to be a little sore the next day but proud of making our outdoors better.
Planting on the Mesa area, North Campus Open Space
Time: 9:00 a.m. - 12:00 p.m.

Location: UC Santa Barbara, North Campus

Event lead: Lisa Stratton
Volunteers should plan on wearing pants and close-toed shoes and kneeling on the ground to do planting and weeding of the north facing slopes of the restored mesa. They will get an overview of the project on the walk into the site.
Parking: Park on the access road, just west of WC married student housing and walk west along Venoco Road and then into the project site.
Santa Maria, CA
Children's Library Clean Up Day with Harvest Community Center
Join us in organizing and cleaning the books, toys, and materials at our children's library. Organization is the key to sparking joy in life and with your help, we can continue to spark joy in the lives of the children we serve.
"Serving the Needs of the Community" - harvestcommunitycenter.weebly.com