Event Information
Location
UCOL
Palmerston North, Whanganui, Wairarapa
New Zealand
Description
From now until the end of the year, UCOL is hosting a series of tours and workshops so you can get a serious taste of what it is like at UCOL. Whether you have a good idea about what you want to study, or are not too sure, we have got you covered. We have a series of general tours if you're not sure what you want to study, or interactive workshops where you will learn more about a specific area!
Browse the below schedule and see which one suits you. When selecting a ticket just pick your preferred tour or workshop and make sure you check the date, time and campus before submitting!
Workshop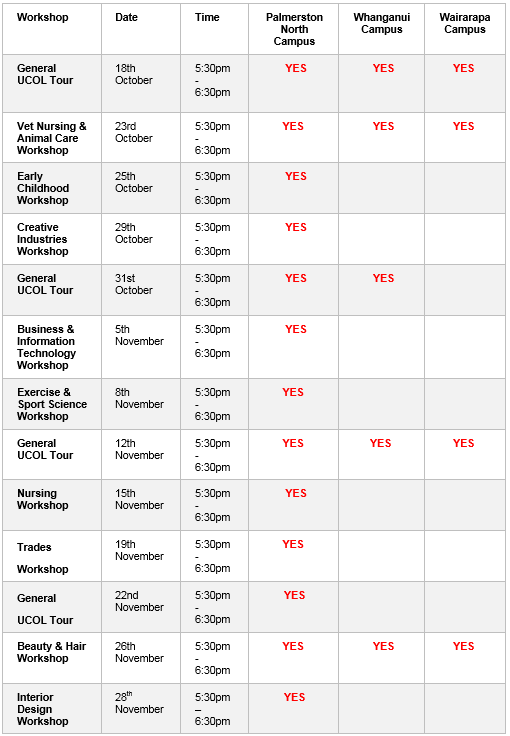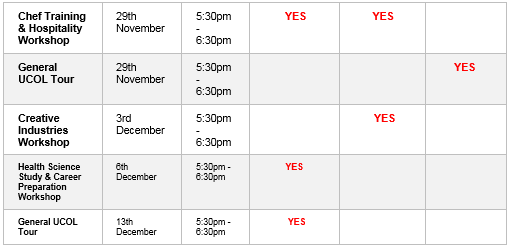 Make sure when you come along you arrive at least 10 minutes before the tours leaving to ensure you don't miss it! Meeting points will be located in the Information Centre on campus. We can't wait for you to experience UCOL for yourself!
Frequently Asked Questions:
Where are the UCOL campuses located?

Palmerston North Campus:
Corner of King & Princess Streets, Palmerston North
Whanganui Campus:
16 Rutland Street, Whanganui
Wairarapa Campus:
143-159 Chapel Street, Masterton
Where do we meet for the tour?
Please meet in the information centre location on campus (or if you are taking the interior design workshop please check your ticket for meeting point). There will be a sign which will indicate the meeting point. Please ensure that you arrive 10 minutes before the tour leaving time to ensure you don't miss it.
Do I need to bring anything with me for the tours?
There may be requirements to ensure your safety on the tours. Please check your tour ticket to see if there are any clothing requirements.
Do I need to get a ticket to come to a tour or workshop?
Yes, spaces are limited on each tour and workshop so you must have a ticket to attend.
If I am a parent or caregiver do I need to get a ticket?

Yes, due to health and safety reasons we have a limited number of spaces on each tour or workshop, so if you are coming along please get a ticket.
Date and Time
Location
UCOL
Palmerston North, Whanganui, Wairarapa
New Zealand