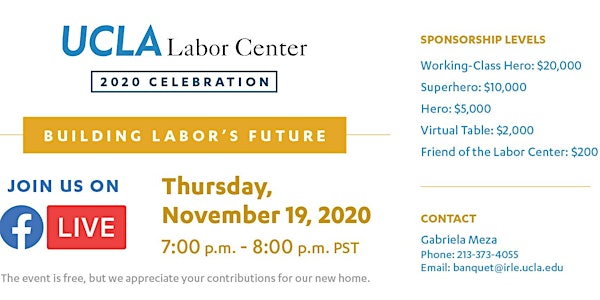 UCLA Labor Center 2020 Celebration
Join us to honor the work of the Labor Center and allies this year in our first ever virtual celebration!
About this event
As much as we would like to celebrate together, to ensure the safety of our guests, we will be hosting a virtual celebration. During this critical year, the work of the Labor Center—to promote worker rights, recruit a new generation of young leaders into the labor movement, and support labor and community alliances—is more important than ever.
Please join us on Facebook Live, Thursday, November 19, 7–8 pm PST. The event is free and open to all. Please register to join us.
This year we are proud to honor:
Ron Herrera, President, LA County Federation of Labor - Working-Class Hero Award
Gerry Hudson, Secretary-Treasurer, SEIU - Voice of the People Award
Linda Delp, UCLA Labor Occupational Safety and Health Program - Change Maker Award
Hilda Solis, Los Angeles County Supervisor and former US Secretary of Labor - Lifetime Achievement Award
While our celebration is free of charge, we appreciate your support for the UCLA Labor Center. Please visit our website for sponsorship opportunities and ways to support the Labor Center!