UCLA Anderson Big Data Conference 2018

Friday, November 16, 2018 from 8:30 AM to 3:30 PM (PST)
Event Details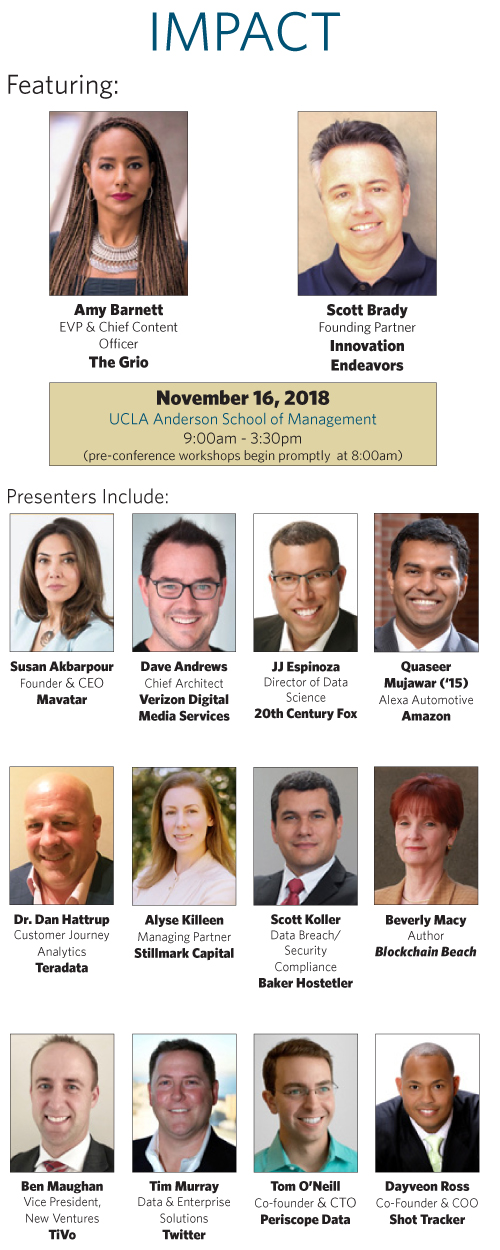 ABOUT BIG DATA
Now in its fourth year, the annual UCLA Anderson School of Management's Big Data Conference is a joint effort between the Center for Management of Enterprise in Media, Entertainment & Sports (MEMES) and the Easton Technology Management Center. The conference focuses on how new technology platforms and access to data transform business practices and revolutionize industries. This one -day interactive event is one of the few conferences that approach the big data conversation from the business perspective. Hosting more than 500 attendees, at previous conferences we've explored audience engagement, the customer journey, innovation pathways, emerging technology trends and more.
This year's theme for the conference is Impact. Throughout the day, we plan to focus more directly on how we use data to drive results. For example, what do business leaders do with data? How does it change the way we make decisions? What new business opportunities does tech enable? How can you use technology to better connect with your consumer and fend off external disruptions? What is the impact of technologies using voice, facial recognition, video and AR/VR? How are these trends affecting the future of work?
Please join us as we bring together a cross section of industry experts and academic thought leaders who are shaping and defining the conversation around the business aspects of big data in tech, entertainment and more.
Big Data Conference Schedule
9:00am

Welcome

 
 

9:15am

Keynote 

 

Scott Brady, Founding Partner, Innovation Endeavors

 

 

10:00am

Panel I - Impact: Innovating With Data

 

Quaseer Mujawar, Product – Alexa Automotive, Amazon

 

Frank Orozco , Chief Technology Officer, Verizon Digital Media Services

 

Josh Rappaport, Chief of Staff & Director of Business Strategy, Microsoft

 

Tom O'Neill, Co-Founder & CTO, Periscope Data

 

Dan Hattrup

(moderator)

, Customer Journey Analytics, Teradata

 

 

10:50am

Panel II - Future of Media: Digital, Data & Brands

 

Ben Maughan, Vice President, New Ventures, TiVO

 

Tim Murray, Data & Enterprise Solutions, Twitter

 

JJ Espinoza, Director Data Science, 20th Century Fox

 

 

11:40am

Innovator Spotlight: The Grio 

 

Amy Barnett, EVP, The Grio

 

Jay Tucker

(moderator)

,

Executive Director, UCLA MEMES

 

 

12:20pm 

LUNCH

 

 

1:30pm

Panel III: Securing Data in the Age of Cloud Computing

 

David Friend, Founder/CEO, Wasabi

 

Scott Koller, Counsel, Baker Hostetler

 

 

2:00pm

Innovator Spotlight: Shot Tracker

 

Dayveon Ross, Co-Founder/COO, Shot Tracker

 

 

2:30pm 

Innovator Spotlight: Mavatar

 

Susan Akbarpour, Founder, Mavatar/mCart

 

 

2:50pm

Panel IV: New Ventures in Blockchain

 

Alyse Killeen, Managing Partner, Stillmark Capital

 

Susan Akbarpour, Founder, Mavatar/mCart

 

Beverly Macy

(moderator)

, Lecturer, UCLA MEMES
When & Where

UCLA Anderson School of Management
Korn Convocation Hall
110 Westwood Plaza
Los Angeles, California 90024


Friday, November 16, 2018 from 8:30 AM to 3:30 PM (PST)
Add to my calendar
Organizer
The mission of the Easton Technology Management Center is to develop leaders who shape technology's future. Through innovative courses, creative workshops, high-profile events, and immersion in the most vital areas of high-tech business culture, Easton prepares the next generation to drive change in technology. By exploring verticals such as high-tech, financial services, health care, education, entertainment-media, retail and defense, students are prepared to work from startups to large global corporations.
The Center for Management of Enterprise in Media, Entertainment & Sports provides students with the world class academic resources and network that are essential to manage and thrive in increasingly complex industries. As the leading center for business thought leadership in media, entertainment & sports, MEMES provides the academic foundation and relevant industry perspective to manage and thrive in an increasingly complex business environment.