UCI LMSA/SMNA Present - The Minority Majority: Our Road to Success
Description
Scholarships are now OPEN!
Thomas Sage Hand Scholarship Deadline: 10/20/2018
Pre-Health Leaders Scholarship & MCAT Prep Course Scholarship Deadline: 10/20/2018
---
Welcome!
UCI School of Medicine Latino Medical Student Association (LMSA) and Student National Medical Association (SNMA) are proud to announce our 17th Annual Pre-Health Conference at the UC Irvine undergraduate campus on November 3, 2018!!
The theme for this year is - The Minority Majority: Our Road to Success in the Medical Field
The path to becoming a health professional is not an easy one. Having mentors to guide you through the process is essential. In past conferences we have stressed the importance of mentorship and will continue to provide opportunity for attendees to meet and connect with potential mentors, as well as information regarding applications, personal statements, and interviews.
However, the events and changes that have occured in the past year have made it clear that mentors are only part of what will make young pre-health professionals successful. We have come to understand that a strong support system built with a diverse group of individuals is just as important to ensuring minority students are able to reach their goals.
Our conference planning committee hopes that this year will highlight the importance of diversity and the benefits of embracing the ideas and cultures of others. We will provide attendees with information on how to achieve success and how to support one another on the difficult path to a health profession.

We look forward to meeting you!
NOTE: Per UCI policy, this event is for students 18 & over. If you are a minor you MUST attend with a parent (meaning you would need to purchase 2 tickets).
--------------------------------
November 3, 2018 - Schedule of Events
Sample of Workshops!
Highway to Success: How to Afford the Journey
Highway to Success: Community College to Medical School
Hit a Road Block? Post-Bacc Programs
Suturing, Ultrasound, Intubation Workshops
The Crossroads of Social Justice, Advocacy, and Healthcare
Slight Detour: My Second Shot at Medical School
Paving the Way: Women in Medicine
Construction Ahead: Health Policy/ Reform
The Intersection of Minorities and Medicine
Etc...
7:00-8:00 am Arrive Check-in/Registration, Breakfast
8:00 am - Program Start
*Exhibitors please arrive at 11:30am (12:00pm-1:20pm - Lunch/Exhibitor Fair)
---
---
Parking: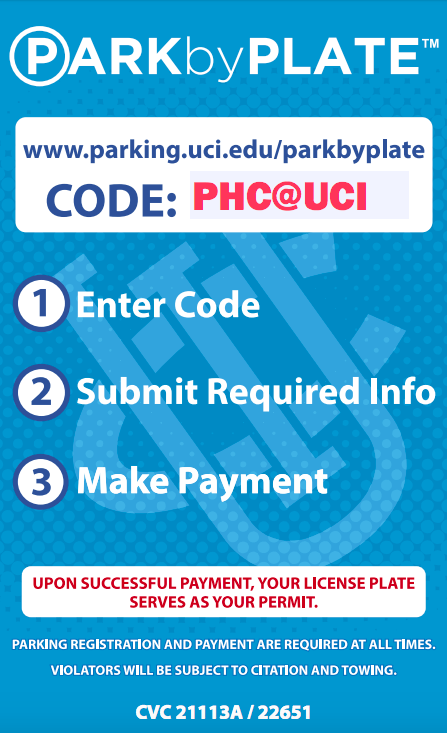 MMI: We are now organizing our "Mock MMI"! Please dont forget to fill out the questions at the end of your registration to let us know if you would be iterested in participating. NOTE: Clicking "Yes" does not guarantee a spot in the "Mock MMI", we will contact all of those who have been given a spot prior to the conference date.