Event Information
Location
UCF Track & Soccer Field
4275 East Plaza Drive
Orlando, FL 32816
Description
Join the UCF Track & Field as they host the Black & Gold Challenge! UCF CARD and PALS along with several other Central Florida organizations that provide supports and services for individuals with autism will be there.
Come out to enjoy fun games, inflatables, food and the UCF Black and Gold challenge on the field. Great fun for the whole family!
(The Black & Gold Challenge is a UCF track & field official event taking place throughout the day that includes javelin, discus, shotput, pole vault, jump, and running competitions.)

Please note: Parking will be in between the Jay Bergman Baseball field and the Soccer Practice field. The event and challenge will be taking place in the UCF Track and Field Complex and in the IOA Plaza.

Directions to Venue:
From Alayfaya, enter UCF on University Blvd
Turn Right on Gemini Blvd S
Turn Right on East Plaza Drive
(TIP: UCF is one big circle, stay on Gemini until East Plaza. Once you pass Garage C & D you are getting close. Once you turn onto Plaza, you will pass all the stores (Barnes & Noble, Amazon, Knightro's).
You will see the Track and Field on the right, This is where the event is.
At the end of E Plaza Dr there will be a stop sign with a Kenneth Dixon Athletic Village sign.
Turn Right onto Knights Victory Way
You will see the baseball field on the right and soccer field on the right
You will be able to park in the field that is between baseball & soccer.
Once you park head out to Knights Victory Way to the IOA Plaza!
If you have questions about parking, you will be able to text the Remind 101 "UCF Black and Gold 2018". If you are not in the group, you can text @UCFbg18 to 81010.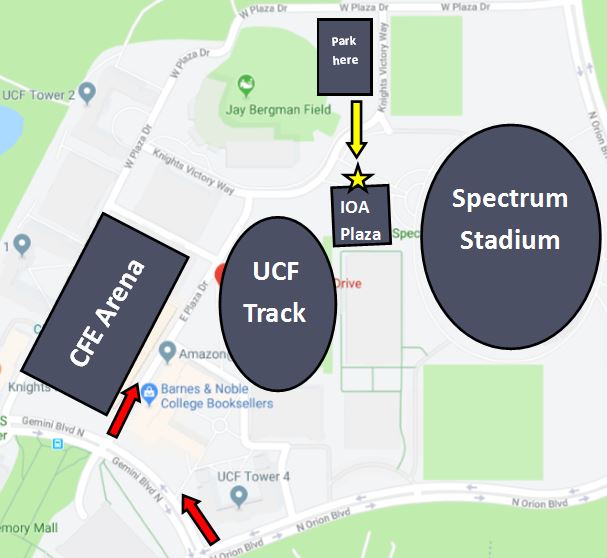 Date and time
Location
UCF Track & Soccer Field
4275 East Plaza Drive
Orlando, FL 32816