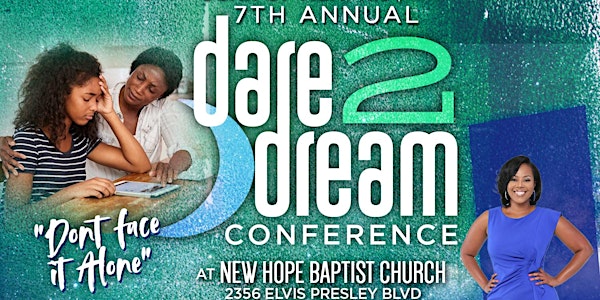 UCAN of Memphis 7th Annual Dare 2 Dream Conference
Managing Stress, Conflict Resolution, and Mental Awareness are the Main Focus of the Seventh Annual Dare 2 Dream Conference
When and where
Location
New Hope Baptist Church of Memphis 2356 Elvis Presley Boulevard Memphis, TN 38106
About this event
"Thousands of young people experience bullying behaviors every day. They often don't speak out about it because they are scared of what might happen or are unsure who to tell or how to report it online. We want to change this by showing young people that they deserve to be heard and that help and support are available." https://mentalhealthnd.org/dont-face-it-alone-speak-out-about-bullying/
UCAN of Memphis, a 501(c)3 nonprofit organization, aims to impact youth through mentoring, workforce development, and bullying awareness in our community. We provide in-school programming that increases personal and social development skills so students can experience tremendous academic success in a bully-free school environment. On October 8, 2022, we will host our seventh annual Dare 2 Dream Youth Conference at New Hope Baptist Church at 2356 Elvis Presley Blvd, Memphis, TN 38106. The conference will provide a day of fun and interactive workshops for middle and high school students centered around managing stress, transitioning from high school to college, effective communication, and peer pressure.
Workshops will be facilitated by mental health professionals, the Memphis Police Department, the college coach, and local personalities. The event will emphasize an inspirational keynote address from the author, speaker, success coach, and founder of the S.O. What! Foundation, Summer Owens. For over a decade, she has been inspiring, educating, and empowering people to achieve S.O. What! Success– that's a success no matter what obstacles they face.
"With so much violence done by young adults, we found it extremely important to dive directly into their core issues. It starts with mental awareness, managing conflict, and mentoring. The Dare 2 Dream Conference will showcase those at the forefront empowering the youth along with mental health professionals who have new ideas and proven solutions to tough problems that our young people face daily," said Leshundra Robinson, Executive Director of UCAN of Memphis. Students and their parents will hear from dynamic voices who meld real-world solutions, down-home inspiration, and provocative thinking with old-fashioned activism – to drive, empower and engage our youth toward positive outcomes. Plus, parents and students will hear about FAFSA from the college coach, April Terrell.
The cost of admission includes lunch, a souvenir t-shirt, and other treats.
You also have an opportunity to sponsor a ticket if you cannot attend. For more information about the 7th Annual Dare 2 Dream Conference, call (901) 262-8642.