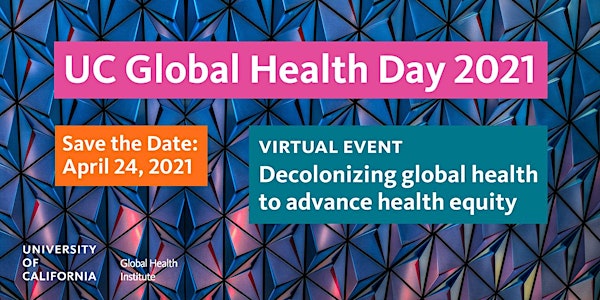 UC GLOBAL HEALTH DAY 2021
Virtual system-wide conference on global health showcasing outstanding research, training and outreach.
About this event
Conference Zoom Access - Please click this URL to join:
https://ucsf.zoom.us/s/98567777996?pwd=NUR4UVFjOW9tQ2ZCMXpTUHlCUHprQT09
Passcode: 436469
This year's theme for UC Global Health Day is Decolonizing Global Health to Advance Health Equity. It will be an opportunity to engage with our UC and global communities on what it means and what it looks like to start the process of decolonizing global health.
For this year's event, we will have critical conversations and build starting points in the work of decolonizing global health through the lens of health equity. We welcome a diverse and broad audience of local, national and international individuals from all sectors involved or interested in a collective and equitable vision for global health reform. The sessions will critically review past and current practices in order to understand the implications of colonization and racism as we shape the future of global health. We plan to empower attendees to recognize and dismantle systems of oppression in their own global health practice, in the hope of creating a more equitable, just, and effective field. This is a free event. Live Spanish interpretation will be available.
Welcome Speaker: President Michael Drake (he/him/his), University of California Office of the President
Introducing President Drake: Tom Coates (he/him/his), Director of UC Global Health Institute, UCLA
Opening Plenary Speaker: Radmilla Cody (she/her/hers), Community Advocate, Community Organizer/Grammy-nominated Singer
Regional Indigenous Perspectives Panel: Samantha Ying (ze/she) (Moderator, co-Director of Planetary Health COE, Assistant Professor of Soil Biogeochemistry, UC Riverside)*
Panelists:
Global Health Panel: Ndola Prata (she/her/hers)(Moderator, co-Director of Women's Health Gender & Empowerment COE, Professor Maternal, Child, and Adolescent Health, UC Berkeley)
Panelists:
Elvin Geng (he/him/his), Professor of Medicine at Washington University School of Medicine in St. Louis, UC Berkeley alum, UCSF Fellowship alum in Infectious Disease
Eric Goosby (he/him/his), Professor of Medicine at UCSF, Biden-Harris COVID-19 Task Force member*
Hollis Wong-Wear (she/her/hers), Singer/Songwriter, Grammy Nominee, Facilitator & Educator, Community Advocate
Plenary Speaker: Laura Mkumba (she/her/hers), co-Founder of Duke University Decolonizing Global Health Working Group, Clinical Research Assistant at FHI 360
Early Career Professionals Panel: Bridgette Smith (she/her/hers), (Moderator, PhD student at UC Davis)*
Panelists:
Closing Plenary Speaker: Javon Johnson (he/him/his), Assistant Professor, Director of African American and African Diaspora Studies, University of Nevada Las Vegas
*Members of the UC Global Health Institute's Black Lives Matter Task Force
**Winners of the Creative Expressions Contests will be announced throughout the program!