UC Davis Aggieathlon 2015

Sunday, March 1, 2015 from 8:00 AM to 11:00 AM (PST)
Event Details
Date Start:

 

Sunday, March 1st, 2015 @ 8:00 AM
Address
Discovery Park
1000 Garden Highway
Sacramento, CA, 95833
Fees
Age Group: $55 until January 25th
         $70 until March 1st.

Students/WCCTC Collegiate: $45 until January 25th
                                       $60 until March 1st.
Brief Description
The UC Davis Triathlon Team would like to present the 2015 UC Davis Aggieathlon on March 1, 2015! The race will be held Discovery Park, Sacramento, CA and will consist of a 700 meter open-water style swim within American River, a fast and flat 13.7 mile bike course and a 5k scenic run through the American River Bike Trail. This is a great race for beginners and veterans alike and there will be collegiate, age group, and competitive age group divisions. Wave will be seated based on most recent olympic triathlon finish times. Awards and prizes will be distributed to top three males and females in the collegiate and age group divisions. We will be using electronic timing for all athletes to give you exact splits for your race. All information is tentative.
Swim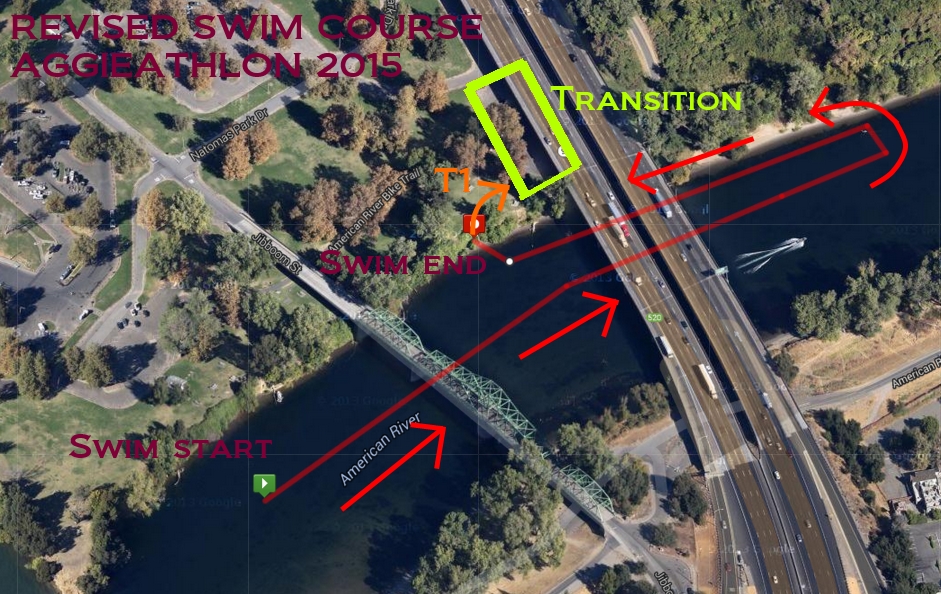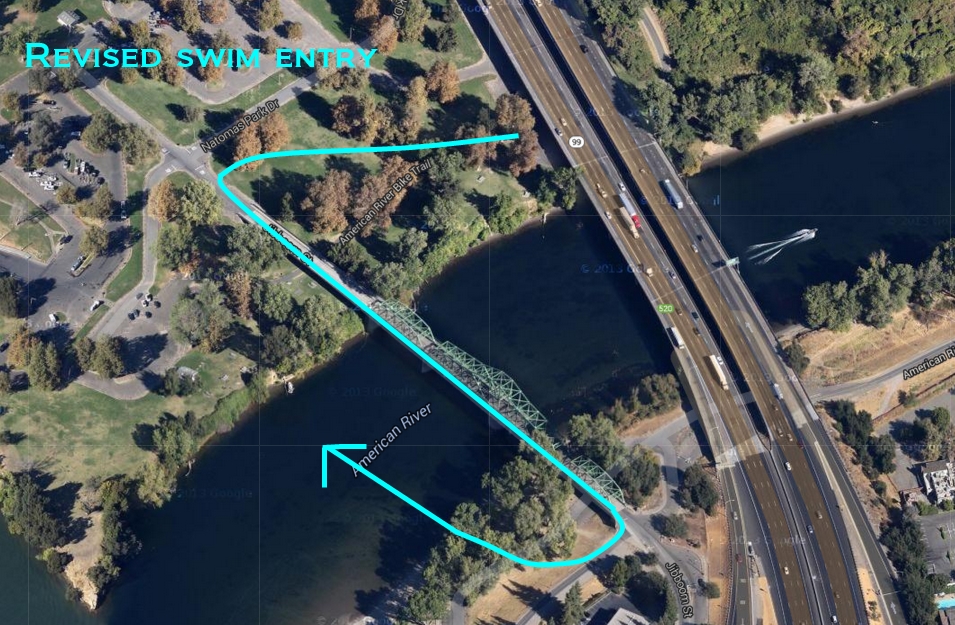 Bike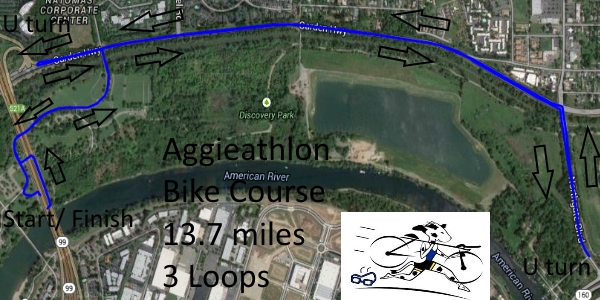 Run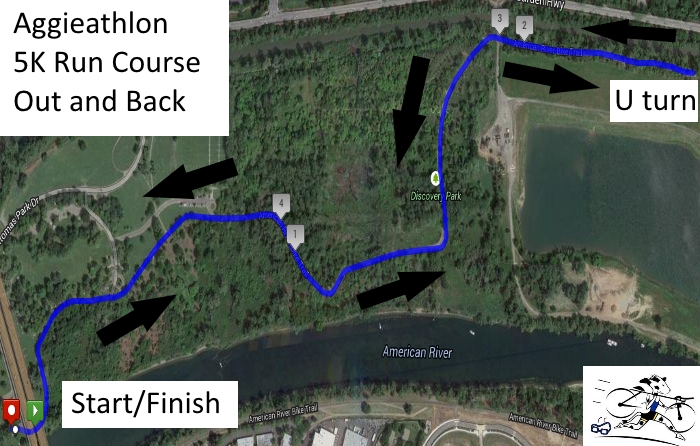 Transition Map
Below are the Tentative Wave Start Times
8:00 – Men's Collegiate 1 (Race Number 1-40)
8:05 – Men's Collegiate 2 (Race Number 41-100)
8:10 – Women's Collegiate 1 (Race Number 101-200)
8:15 – Men's Open 1 (Race Number 201-300)
8:20 - Women's Open 1 (Race Number 301-400)
Tentative packet pick up will be Saturday, February 28th from 3:00 PM to 6:00 PM at Ken's Bike and Ski, Davis, CA. 
Race day packet pick up will begin at 6AM directly at the Discovery Park race site and be closing at 7AM.  A vast majority of people will be picking up their packets in the morning so please arrive early so we can get all the packets out in time.  
Bring a Photo ID to packet pickup! If you are not a USAT member, you will be required to pay the $12 one day license fee. If you are a USAT member, be sure to bring your member registration card! Remember, you must be present to pick up your own packet.
Parking will be available at Discovery Park parking lot and surrounding streetside areas.
Transition will be open from 6:30 until 7:45 in the morning.
Swim The swim will be a 700 meter open-water style swim in the American River within the Discovery Park area. Swimmers will swim a loop marked within the river. Buoys will be placed at each of the turns.Water temperature will be 55 degrees and the swim will be wetsuit required. A proper warm-up is highly suggested prior to race start. Warm-up will be available before 7:45. The swim will start on the opposite side of the American River. Prior to the swim start, racers will have to walk across the bridge to reach the beach of swim start.
Bike The bike course contains THREE 4.15 mile loops. Do not be confused by the actions of other racers as many of the cyclists out on the race course may be ahead or behind you a lap. A full 4.15 mile loop consists of biking out to the Northgate turn around, heading back and continuing straight to the Garden Highway turn around. Once this loop is completed head back and repeat this loop. You should not return to transition until you have completed two loops. If you have not been cycling for at least 25 minutes then you probably have not completed two loops.
Run The run course is a 5k(3.1 mile) out and back  along the American River Bike Trail. The course will be marked to avoid turning off from the main course. Do not turn around until you have reached the official turn around point for the run course. Markers within the map mark a kilometer in distance.
As of now this is the most up-to date information on the race. There are no refunds for this race.
Questions
- If there are any further questions that we have not addressed please feel free to email us at
Racing@ucdtri.com. 
Visit www.davissprinttriathlon.com for more info. Unfortunately we are not able to offer refunds on this race. Please remember that if you are not a USAT member, you will need to purchase $12 one day insurance at packet pickup. 
When & Where

Discovery Park
1000 Garden Highway
Sacramento, CA 95833


Sunday, March 1, 2015 from 8:00 AM to 11:00 AM (PST)
Add to my calendar
Organizer
UC Davis Triathlon Team
The Davis Sprint Triathlon is a student-run event organized by the UC Davis Triathlon Team. Our goal is to organize a safe and fun community event. Please let us know if you have any special needs, questions or concerns.
Yours Truly,
Taehoon Song and Jesse Taing
Race Directors, UC Davis Triathlon Team
racing@ucdtri.com
UC Davis Aggieathlon 2015