UC Berkeley SSSCR's 4th Annual Stem Cell Conference: Culturing a Stem Cell Community

Saturday, October 15, 2016 from 9:00 AM to 5:00 PM (PDT)
Event Details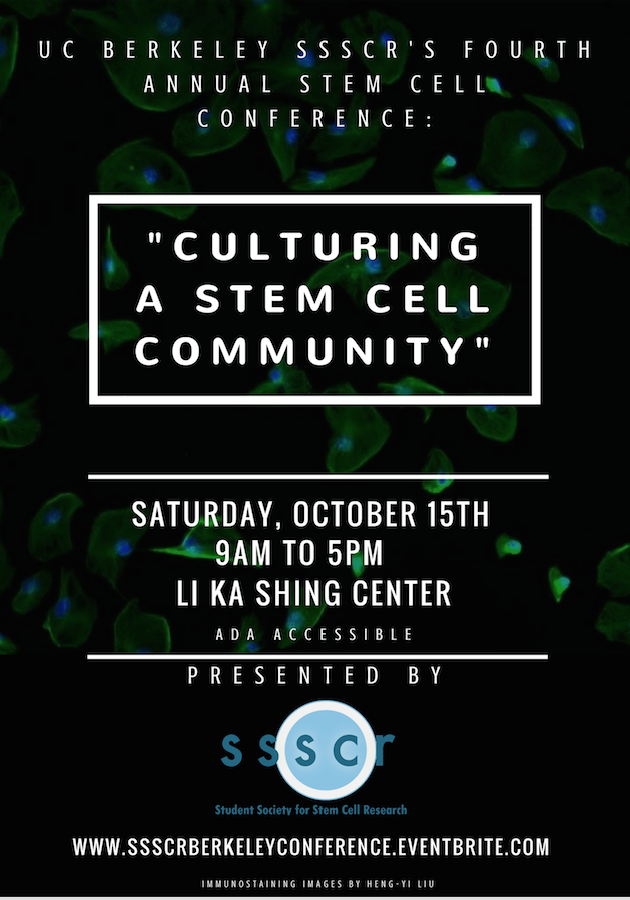 4th Annual Stem Cell Conference: Culturing a Stem Cell Community
UC Berkeley's Student Society of Stem Cell Research (SSSCR) is excited to host its fourth annual Stem Cell Conference: Culturing a Stem Cell Community. This conference aims to bring together different aspects of stem cell research, from science to advocacy, to demonstrate the growth and success of the field.
Confirmed Speakers:
Jan Nolta.................10:15am
Dirk Hockemeyer.....10:45am
Glenn Markov...........11:10am
Henry Klassen..........11:35am
~Intermission~
Kevin McCormack.....1:10pm
Paul Knoepfler............1:35pm
Michael Holmes...........2:00pm
Mary Bass and James Stewart....2:25pm
Poster presenters........2:50pm
David Schaffer.............3:00pm
Poster Presentation Session
Please Visit us here for more information.
When & Where

245 Li Ka Shing Building
245 Li Ka Shing
Berkeley, CA 94538


Saturday, October 15, 2016 from 9:00 AM to 5:00 PM (PDT)
Add to my calendar
Organizer
Student Society for Stem Cell Research (SSSCR)
The Student Society for Stem Cell Research was founded in August of 2003. We are an international network dedicated to the advancement of scientific research for cures. We believe that stem cell research will revolutionize the field of medicine. With a coordinated and cooperative global effort, we can advance stem cell research in the most efficient manner.
UC Berkeley Stem Cell Center 
The Berkeley Stem Cell Center brings together investigators at UC Berkeley, Children's Hospital and Research Center Oakland, and Lawrence Berkeley National Laboratory, in a collaborative, creative multidisciplinary research environment. The Center's mission is to carry out the highest quality basic and translational stem cell research toward development of novel therapies for human diseases. 
California Institute for Regenerative Medicine (CIRM)
California's stem cell agency closely monitors progress in stem cell research and targets funding in areas most likely to lead to new therapies. We're funding great research, training new scientists and working with industry leaders to make sure our grantees succeed--and that the people of California benefit.