UC Berkeley Pre-Health Conference 2013

Saturday, March 2, 2013 from 8:30 AM to 4:30 PM (PST)
Event Details
 American Medical Student Association (AMSA)
UC Berkeley Premedical Chapter
Hosts:
Inspiring the Healthcare Leaders of Tomorrow
6th Annual UC Berkeley Prehealth Conference, 2013
Saturday March 2nd, 8:30 AM - 4:30 PM
Clark Kerr Campus, UC Berkeley
Attire: Business Casual
General admissions ticket includes access to all presentations and workshops, breakfast, and lunch. 
Admissions:
General admission (until February 23): $5
Late registration (February 24 - March 1): $10
At the door (March 2): $15
Check-in and breakfast will begin at 8:30 AM with the keynote speech beginning at 10 AM.
Program of Events
10 - 10:55 AM:
   Keynote Speaker: John Armstrong, MD
11 - 11:55 AM:
   MCAT Workshop
   Physician Panel
   Research in Medicine
   Healthcare Reform
12 - 1 PM: Lunch Break
12:30 - 2:30 PM: Graduate School and Volunteer Fair
1 - 1:55 PM:
   Personal Statement Workshop
   Interview Workshop
   Joint Degree Program Medical Student Panel
   Public Health Student Panel
2 - 2:55 PM: 
   Personal Statement Workshop (repeat)
   AMCAS Workshop
   Upperclassmen Student Panel
   Global Health
3 - 3:55 PM: 
   Medical Student Panel
   Post-Baccalaureate and Special Master's Programs
   Suture Clinic
   Interactive Case Study
4 - 4:30 PM: Closing Ceremony + MCAT Auction Announcement

 For more information, visit amsa.berkeley.edu or for questions e-mail berkeleyamsa@gmail.com.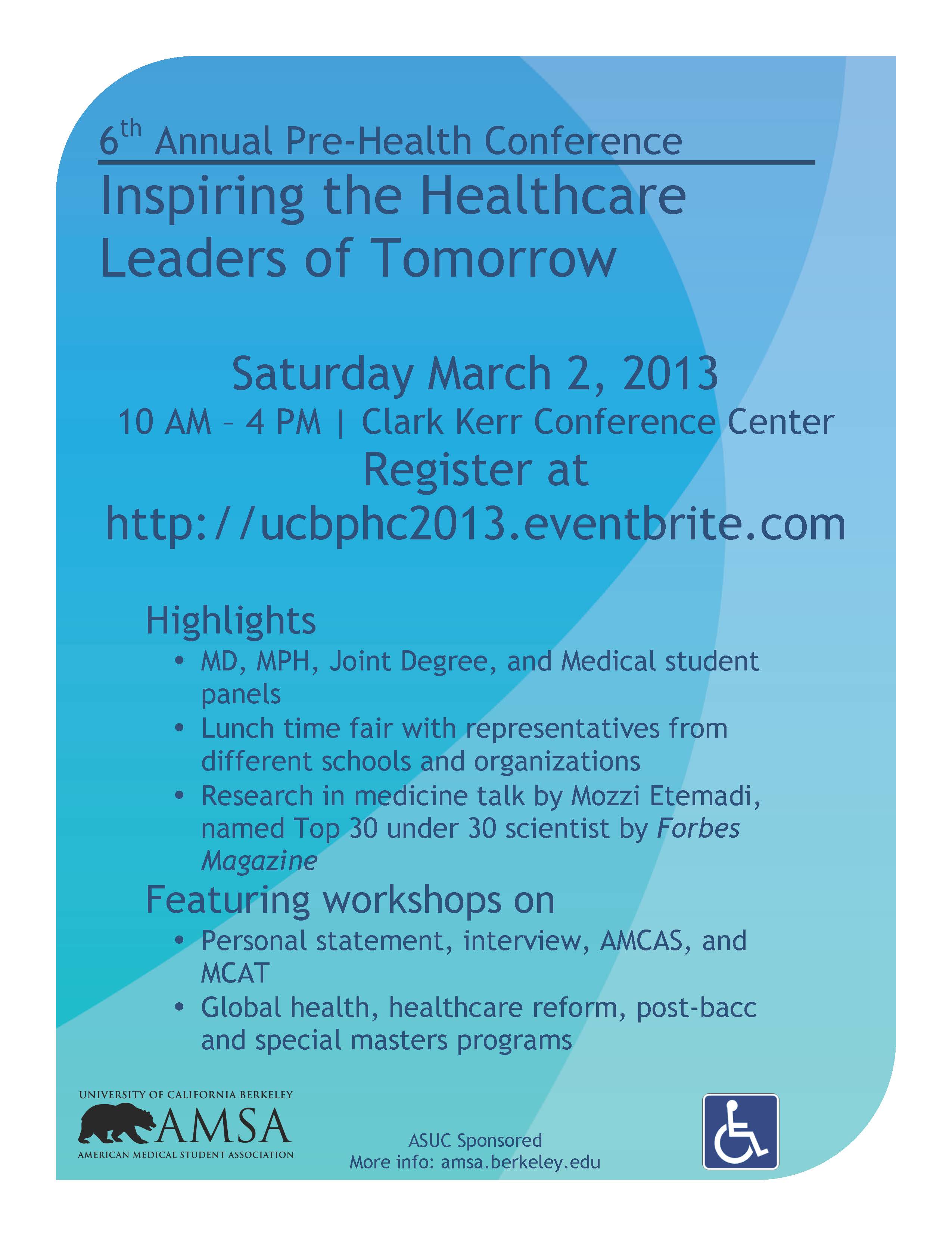 When & Where

UC Berkeley, Clark Kerr Campus
2601 Warring Street
Berkeley, CA 94720


Saturday, March 2, 2013 from 8:30 AM to 4:30 PM (PST)
Add to my calendar
Organizer
The mission of UC Berkeley AMSA Premed Chapter is to provide information, support and leadership development for future physicians-in-training at Cal. As activists, we seek to foster our philosophy of diversity and community service in the premedical student, while providing benefits and service which aid future physicians-in-training as they prepare for a career in medicine.

We are a group of students (mostly pre-meds, but everyone is welcome!) dedicated to giving back to the community, learning about medicine today, and creating a welcoming and supportive community at Cal. Founded a little more than a decade ago in the 90's by UC Berkeley students, it is a affiliated with the oldest and largest independent association of physicians-in-training in the United States-- the national American Medical Student Association (AMSA), which is known to have over six decades of medical student activism.

Today, UC Berkeley AMSA is a student-governed, UC Berkeley organization supported by the ASUC and is committed to representing the concerns of future physicians-in-training. With a membership of more than 150 premedical students, UC Berkeley AMSA continues its commitment to providing a support network and resource for pre-medical students interested in health and medicine.