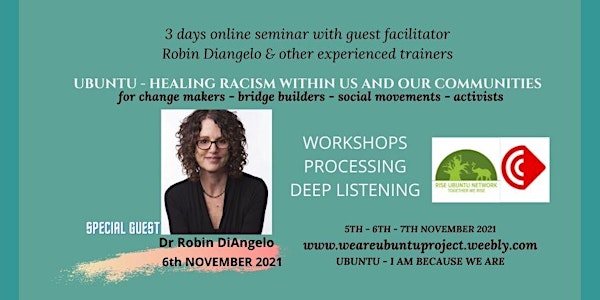 Ubuntu - Healing racism within us and in our communities.
3days journey of unlearning and paving a new path together, with Dr Robin DiAngelo as our special guest and experienced workshop holders.
Refund Policy
Refunds up to 7 days before event
Eventbrite's fee is nonrefundable.
About this event
As human beings we are creatures of connection, but we are having to navigate the world within systems that are designed to disconnect us.
Countering racism needs determined actions and efforts. The task of dismantling systemic and institutionalised racism requires more than superficial gestures but instead entails assessing, changing, and even eliminating long-standing systems that lead to inequality.
Supporting organisations committed to racial social and climate justice and eradicating policies that marginalise BIPOC, are just a few of the widespread changes that must happen. The time has come for the climate change community, social and grassroots movements to recognise and act upon racial injustices.
Without healing, even the best policies and practices cannot stop racism and internalised racism from continuing to reappear in different forms.
Healing the damage done to us by racism will allow us to stop re-enacting the internalised damage of racism in our lives, stop inflicting that damage on each other and our communities, and stop passing it along to our children and grand children. Healing will enable us to create communities that function without the damages of racism.
Healing from the hurts installed on us by racism and internalised racism will allow us to reclaim full access to our inherent human characteristics of intelligence, power, goodness, lovingness, and awareness of our own beauty and strength.
note: We have a few sponsored places for those who wish to attend and have no funds, write to charitysabic@gmail.com
5th November 2021
BELONGING - ​FACING CHALLENGES OF DIVERSITY AND SOCIAL JUSTICE IN OUR ORGANISATIONS AND COMMUNITIES.
TIME: 15H00 - 17H00 Central European Time - ROUND TABLE AND DISCUSSION
TIME: 18H30 - 20H30 Central European Time - WORKSHOP WITH CRYSTAL BYRD FARMER ​
​
6th November 2021
WHAT'S NEXT - NAVIGATING THE WORLD WITHIN SYSTEMS THAT ARE DESIGNED TO DISCONNECT US.
TIME: 15H00 - 16H30 Central European Time - WORKSHOP WITH ANDREW SMITH
TIME: 18H00 - 19H00 Central European Time - LIVE CONVERSATION BETWEEN NONTOKOZO SABIC & DR ROBIN DIANGELO
TIME: 19H00 - 20H00 PROCESSING
7th November 2021
DEEP LISTENING - SHIFTING THE POWER AND RACIAL IDENTITY
TIME: 15H00 - 17H00 Central European Time - PROCESSING
TIME: 17H00 - 20H00 Central European Time - WORKSHOP WITH MARK HAMLIN (white community only)