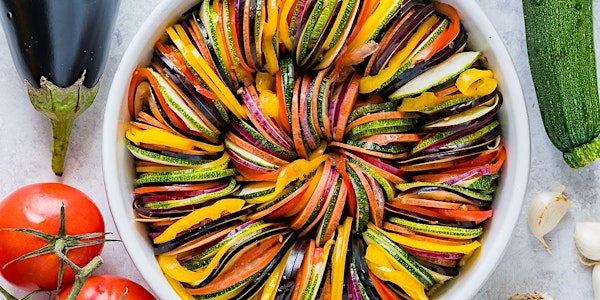 UBS-Virtual Cooking Class: Late Summer Ratatouille
Learn how to make this vibrant late summer ratatouille. Cook along from home with the UBS Virtual Cooking School!
About this event
Join us to make this amazing summer ratatouille. Chef will walk you through the process in this fun free 30 minute class.
The recipe, ingredients and needed equipment are listed below. Please email Sous Chef Dana at Dana.Moore@ubs.com with any substitution questions.
Prior to class we recommend getting organized by preparing your ingredients and gathering your cooking utensils. This will allow you to easily access all necessary ingredients and materials during the demonstration to best cook along with your chef. Thorough preparations will provide a more enjoyable experience.
Please register for the virtual class using your UBS email address as this is an internal Skype event. Skype information will be sent out prior to class to all attendees. We encourage you to join a few minutes early to ensure that you have a good connection. Class will begin on time.
Please note: This is a virtual internal event for UBS employees only.
Later Summer Ratatouille
Ingredients
Sauce
• 2 Tablespoons olive oil
• 1 teaspoon dried basil
• 1 teaspoon dried thyme
• 1 teaspoon dried oregano
• 4 cloves garlic, minced
• ½ c diced tomatoes
• 2 red onions, sliced
• 4 large tomatoes, sliced
• 2 small eggplant, sliced
• 2 zucchini, sliced
• 3 sweet potatoes, sliced
• 2 yellow bell pepper, julienned
• 1 teaspoon fresh thyme, chopped
• Salt and pepper
Equipment
• Knife
• Cutting board
• Japanese mandolin
• 8x8 nonstick baking dish
• Hand blender
Instructions – preheat oven to 400
1. Combine all of the ingredients for the sauce and blend
2. Grease or spray nonstick pan with olive oil- place the sauce at the bottom of the pan
3. Slice vegetable with Japanese mandolin or sharp knife ¼ inch thick
4. Place the vegetable in the pan, alternating colors. Brush with olive oil on top. Season with salt, pepper, and fresh thyme
5. Cover with parchment paper and aluminum foil- bake for 40 min or until vegetables are tender. Place uncovered under broiler for 2-3 min for a golden brown top.
Chef Notes: Please have all ingredients in front of you before you start class
Enhance your culinary experience (and kitchen) with UBS branded products from Scarborough & Tweed – to view the culinary catalog and to place an order visit: https://ubs.scarboroughtweed.com/products?s%5Bf%5D%5Bc%5D%5B%5D=%2FVirtual+Cooking+School
Please scan below to let us know what you think about your virtual learning experience!