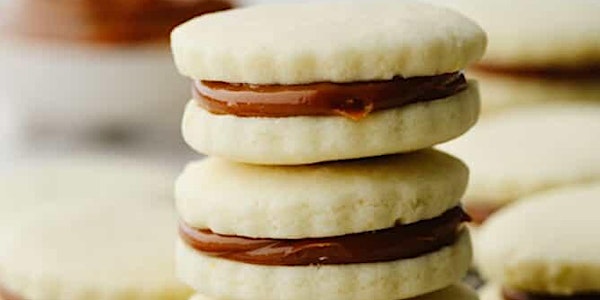 UBS-Virtual Cooking Class: Dulce de Leche filled Shortbread Cookies
Learn how to make Alfajores- delicious filled short bread cookies . Cook along from home with the UBS Virtual Cooking School!
About this event
Join us to make Alfajores shortbread cookies Chef will walk you through the process in this fun free 30 minute class.
The recipe, ingredients and needed equipment are listed below. Please email Chef Veronica at Veronica-Za.Flores@ubs.com or Chef Dana at Dana.Moore@ubs.com with any substitution questions.
Prior to class we recommend getting organized by preparing your ingredients and gathering your cooking utensils. This will allow you to easily access all necessary ingredients and materials during the demonstration to best cook along with your chef. Thorough preparations will provide a more enjoyable experience.
Please register for the virtual class using your UBS email address as this is an internal Skype event. Skype information will be sent out prior to class to all attendees. We encourage you to join a few minutes early to ensure that you have a good connection. Class will begin on time.
Please note: This is a virtual internal event for UBS employees only.
Alfajores – Dulce de Leche stuffed shortbread cookies
Ingredients
• 1 (14oz) can sweetened condensed milk
• 16 Tablespoons, unsalted butter, at room temperature
• 2/3 c granulated sugar
• 4 egg yolks
• 1 teaspoon vanilla paste
• 1 teaspoon lemon zest
• 1 teaspoon baking powder
• 1 ½ c corn starch
• 1 2/3 c AP flour
• 1/8 teaspoon salt
1/4 teaspoon baking powder
• ½ c powdered sugar, sifted
Equipment
• Stock pot with lid
• Tongs
• Microplane
• Half sheet tray lined with parchment paper
• Sifter
• Rolling pin
• Stand mixer with paddle attachment
• Plastic wrap
• Piping bag
• Small cookie cutter (2inches)
• Cooling rack
Instructions- preheat oven to 350
1. Remove label from can of condensed milk, and place in stock pot, fully submerged in water (2 inches over the can). Bring water to boil, once at a boil change setting to simmer for at least 2 hours, 3 for a darker and richer final product. Open can and left mixture cool completely before using. Place in piping bag once cooled.
2. Combine sifted flower, cornstarch, baking powder, and salt
3. Add butter and sugar to kitchen aid mixer bowl- cream until light and fluffy. Add in one egg yolk at a time, and vanilla paste
4. Add sifted dry ingredients until combined
5. Transfer dough on work surface, roll into ball, and wrap in plastic wrap. Cover and chill for at least two hours
6. Remove from fridge and temper for 30 minutes- roll ¼ inch thick and cut with cookie cutter. Place on paper lined sheet tray,
7. Bake for 10-12 min (rotate halfway). Cool completely on wire rack.
8. Once cookies are cooled, turn over to flat side up, fill each cookie with Dulce de leche. Reserving half of the cookies for the tops. Place another cookie on top of the Dulce de leche, and sift/dust powdered sugar on top.
Chef Notes: Please have all ingredients in front of you before you start class
Enhance your culinary experience (and kitchen) with UBS branded products from Scarborough & Tweed – to view the culinary catalog and to place an order visit: https://ubs.scarboroughtweed.com/products?s%5Bf%5D%5Bc%5D%5B%5D=%2FVirtual+Cooking+School
Please scan below to let us know what you think about your virtual learning experience!