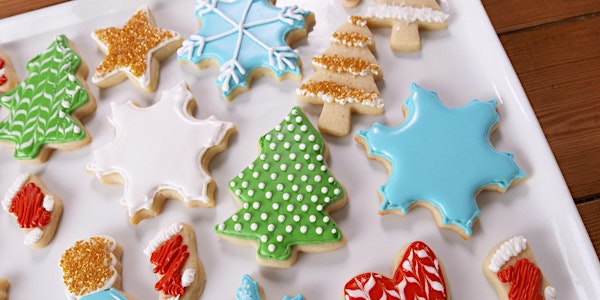 UBS-IN PERSON Cooking Class: Sugar Cooking Decorating Class
Learn how to decorate sugar cookies. Cook with us at the UBS Cooking School!
About this event
Join us to decorate sugar cookies. Chef will walk you through the process in this fun free 30 minute class.
The recipe, ingredients and needed equipment are listed below. Please email Chef Veronica at Veronica-Za.Flores@ubs.com or Chef Dana at Dana.Moore@ubs.com with any substitution questions.
THIS AN IN PERSON CLASS
Sugar Cookie Decorating
COOKIE:
3 cups flour
1.5 tsp baking powder
1 tsp salt
1 cup butter room temp
1 cup sugar
1 egg
1 tsp vanilla extract or paste
ROYAL ICING:
2 Tbsp Wilton color flow mix
4 cups powdered sugar
1/4 cup + 1 Tbsp water
1/2 tsp almond extract
Instructions
Pre-heat oven to 350 degrees.
Line baking sheets with parchment.
Have cookie cutter(s) ready.
instructions
COOKIES:
In medium bowl add the flour, salt and baking powder, stir to combine, set aside.
In bowl of mixer start whipping the butter until light and fluffy.
Add the sugar and mix to combine.
Add in the egg, vanilla and vanilla bean. Mix well to combine.
Slowly add in the flour mixture and mix until cookie dough forms and all is combined.
Divide dough into two portions.
Place dough between two sheets of wax paper and roll out, cut out cookies and place on tray.
Bake for 8-12 minutes.
Repeat until all cookies are baked.
Let cool completely.
ROYAL ICING:
Combine all ingredients into mixer and mix until all combine and royal icing forms, about 5 minutes.
Pour into piping bag with a small round tip, I used Wilton tip #3.
DECORATING:
Lay cookies flat on cookie sheets.
Outline the snowflakes with royal icing.
Let set for at least 10 minutes. This outline will be like a fence and will keep the royal icing from running over the sides when its time to fill.
Next fill each cookie with royal icing, using the tip or a toothpick to move it around so it covers evenly.
Sprinkle immediately with sprinkles while icing is wet.
Let set to dry completely, at least 4 hours but over night is preferable.
Enhance your culinary experience (and kitchen) with UBS branded products from Scarborough & Tweed – to view the culinary catalog and to place an order visit: https://ubs.scarboroughtweed.com/products?s%5Bf%5D%5Bc%5D%5B%5D=%2FVirtual+Cooking+School
Please scan below to let us know what you think about your virtual learning experience!