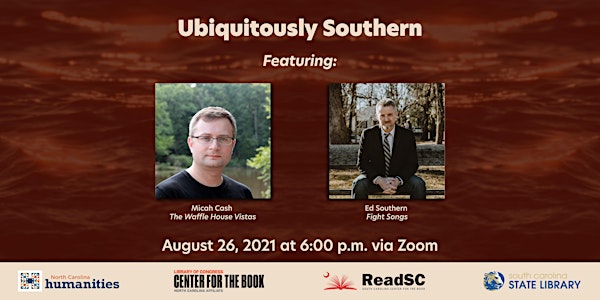 Ubiquitously Southern: What Two Southern Staples Reveal about the South
Featuring writers from North and South Carolina, this is the last of three panels discussing Southern identity.
About this event
Do you prefer your hash browns scattered, smothered, and covered? Are you thrilled by the roar of the crowd on a fall afternoon in a college stadium? What is it about Waffle House and collegiate athletics that embody life in the South?
Join North Carolina Humanities and South Carolina Center for the Book on August 26, 2021 for "Ubiquitously Southern" featuring authors Micah Cash and Ed Southern in conversation about how their books explore cultural fixtures of life in the South.
This event is moderated by Dr. Margaret D. Bauer.
The event will conclude with an audience Q&A.
This conversation is the third in a three-part author talk series exploring place and identity in the Carolinas and is made possible by North Carolina Humanities Center for the Book and South Carolina Center for the Book, affiliates of the National Center for the Book in the Library of Congress.
Deep Roots: Generational Connections to the Past
Growing Up Carolina: Perspectives and Reflections on Coming of Age