Description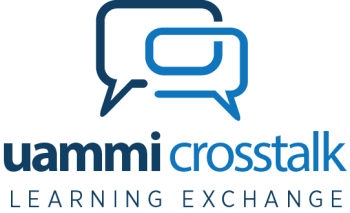 Join us for the upcoming CrossTalk event on March 21st, in conjunction with the Wasatch Front Materials Expo. Similar to last years "Supply Chain Conference", CrossTalk is a free all-day learning exchange event where industry experts will share the latest research and trends in advanced materials and manufacturing. It will consist of expert presentations, discussions, networking breaks and a free lunch!

~
WHO SHOULD COME

The CrossTalk event is for: industry employees, researchers, engineers, engineering managers, program managers, R&D teams, management teams, higher education faculty/students and anyone interested in the advanced materials/manufacturing industry in Utah.

~
SCHEDULE
9:30-10:00 Check In
10:00 Welcome & Intro, Jeff Edwards, UAMMI Director
10:15 Mark Messick, Orbital ATK Aerospace Structures: Topic: Aerospace Manufacturing

10:45 Andrew Maxey, Vartega. Topic: Composites Recycling. Topic: Additive Manufacturing

11:15 Jeffrey DeGrange, Impossible Object. Topic: Additive Manufacturing
11:45 Kory Abbitt, Renegade Materials. Topic: High Temp Resins.

12:15-1:00 Lunch
1:00 David Hansen, Ogden Air Logistics Complex, Topic: TBA

1:30 Steven R. Clarke, T.E.A.M., Inc. Topic: Textile Innovations in Composites

2:00 Jeff Perkins, Radius Engineering. Topic: RTM Innovations

2:30-2:45 Break
2:45 Mike Hoke, Abaris Training Resources. Topic: Innovations in Repair

3:15 Dr. Dan Adams, UofU/Wyoming Test Fixtures. Topic: Advances in Composite Testing.

3:45 Conclusion, Jeff Edwards, UAMMI Director (or Brent?)
4:00 – 8:00 Wasatch Front Materials Expo
~
LOCATION

The event will be held at the Salt Lake Community College Miller Campus in Sandy, Utah (9750 S 300 W, Sandy, UT 84070.)

~
NOTE: This event is in conjunction with the Utah SAMPE Wasatch Front Materials Expo immediately following CrossTalk in the same location from 4-8 PM. It is Utah's largest advanced materials expo with 62 vendors, 450 attendees, free food and free admission! RSVP and see more details about the WFME here.
Organizer of UAMMI CrossTalk Event - 03.21.18
The Utah Advanced Materials & Manufacturing Initiative (UAMMI) is the headquarters for Utah's advanced materials and carbon composites manufacturing ecosystem. UAMMI brings together public, private, community, industry and educational partners to assure the growth and sustainability of Utah's advanced composites industry. www.UAMMI.org