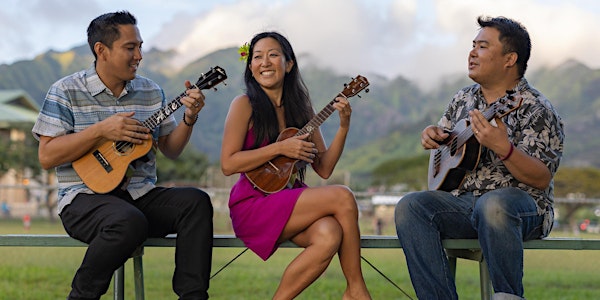 U3: Cynthia Lin, Abe Lagrimas, Jr., Ukulenny @ BALLARD HOMESTEAD
Abbey Arts presents - U3: Cynthia Lin, Abe Lagrimas, Jr., Ukulenny live at Ballard Homestead
Date and time
Starts on Saturday, May 20 · 7:30pm PDT
Location
Ballard Homestead 6541 Jones Avenue Northwest Seattle, WA 98117
Refund Policy
Refunds up to 7 days before event
About this event
2 hours 30 minutes

Mobile eTicket
The 'ukulele supergroup U3 brings together three heavy hitters of the uke world in a musical collaboration spanning the Pacific Ocean. With popular YouTuber Cynthia Lin in Honolulu, Na Hoku award-winning multi-instrumentalist Abe Lagrimas, Jr. in Los Angeles, and "life of the party" Ukulenny in the San Francisco Bay Area, U3 joins forces to create an island-inspired cross-cultural sound. From jazz and bossa nova, to Hawaiian classics, to island reggae remixes, U3's debut album In Waves (2020) features genre-bending arrangements that bridge the artists' skills and versatility, and stretch the 'ukulele into new territory. In addition to hearing all three artists play 'ukulele on the album, Cynthia leads with her signature vocals, Ukulenny lays down U-bass and beatbox, and Abe displays his multi-instrumental virtuosity on drums, vibraphone, and percussion.
"Creator of the #100DaysofUkulele project, Cynthia Lin is a singer-songwriter and YouTube personality based in Honolulu, Hawai'i. Through her popular YouTube channel (60+ million views) and approachable teaching style, Cynthia has helped hundreds of thousands of people across the world to discover the joy of ukulele. Her online Patreon community has nearly 5000 members, and she leads the vibrant San Francisco Uke Jam community with her Bay Area uke partner Ukulenny. Together they founded the San Francisco Uke Fest, which was officially recognized by the State Assembly of California.
As a singer-songwriter, Cynthia has released 9 album recordings independently, with her recent albums Ukulele Days and Cozy Christmas hitting the Billboard charts in their first week of release. In her latest project, the island-inspired In Waveswith the ukulele supergroup trio aptly dubbed "U3," Cynthia shares her versatile vocals on songs ranging from Japanese bossa nova to cherished Hawaiian classics to sultry jazz ballads. She encourages you to follow your passion."
-Artist Bio
"Abe Lagrimas, Jr. is a musician, composer, educator, and author who plays the drums, vibraphone, ukulele, and studied at Berklee College of Music. He competed in the highly prestigious Thelonious Monk International Jazz Drums Competition and has worked with many different artists such as Eric Marienthal, Eric Reed, Kamasi Washington, Katisse Buckingham, Lalo Schifrin, Barbara Morrison, Michelle Coltrane, Jake Shimabukuro, Kenny Endo, and continues to be an in-demand session musician in Los Angeles.
As a solo ukulele artist, Abe is a Nā Hōkū Hanohano Award (Hawaii Academy of Recording Arts) recipient and has released multiple albums in the United States, Japan, and South Korea. He has headlined many ukulele festivals throughout the United States, as well as Canada, Mexico, U.K., Germany, China, Japan, Philippines, Thailand, and Australia. Abe is also an active educator who has conducted workshops, currently teaches private lessons, and is an instructor for the Fender Play series. He is the author of Jazz Ukulele: Comping, Soloing, Chord Melodies (Berklee Press & Hal Leonard), which is available in stores worldwide and on Amazon. He currently endorses Canopus Drums, Paiste Cymbals, Vic Firth Drumsticks, Beato Bags, Ko'olau Ukulele, Analysis Plus Cables, Fusion Gig Bags, and Roswell Pro Audio."
-Artist Bio
"Lenny San Jose, aka Ukulenny, is a performer and educator based in Oakland, CA. He started his ukulele career in 2009 on the BART train, working on his chops and occasionally getting passengers to sing along during his daily commute. His YouTube channel has attracted over 77,000 subscribers and 10 million views, and yes, there is a rick-roll somewhere in there.A multi-instrumentalist at heart, he taught at Oakland School for the Arts and Berkeley Unified School District for five years before becoming a full time musician. His performances feature the ukulele (of course), bass, saxophone, melodion, and beatbox, as he covers a wide variety of music. Lenny's influences include Stevie Wonder, the Beatles, and Bruno Mars, performed with the island spirit of groups like UB40, Kolohe Kai, and the electrifying Kapena. Collaborations include Ukulenny & Dos Pogi Boys (Hawaiian Reggae Trio), The Bob and Lenny Show (Trumpet/Guitar Jazz Duo), and U3 (Ukulele Trio). Sponsored by Kala Brand Music, Ukulenny is a regular fixture in the Kala website, Learn to Play Program and the Kala App. For more info, visit ukulenny.com and follow @ukulenny on social media and spotify."
-Artist Bio
@ Ballard Homestead
6:30p Meet & Greet (for Meet & Greet ticket holders)
7p doors, 7:30p show
All ages, mostly seated
--------------------------------------------------
EVENT & VENUE INFO:
Check tickets for show times
Ballard Homestead is ADA accessible
Service animals as defined by the ADA are allowed. Service animals are defined as dogs that are individually trained to do work or perform tasks for people with disabilities.
Please refrain from talking during songs.
Please enter quietly if the show has already begun.
Please leave quietly, it's a very quiet neighborhood. I sense a trend here.
Quiet Picnics Welcome. Big surprise there right?
Light snacks & non-alcoholic beverages may be available for purchase, but no other food or bar service at Ballard Homestead shows.
We have a mix of normal chairs, some tall chairs, and standing room in back.
Seating is not reserved unless noted.
Please limit photos during the show so as to not distract other attendees from the experience.
We are an all ages venue. Kids 10 & under are free at Abbey Arts concerts & arts events unless noted.
Entering the venue indicates agreement to adhere to the Abbey Respect Policy. All are welcome.
--------------------------------------------------
ABOUT ABBEY ARTS, SEATTLE:
NONPROFIT 501C3, NON-RELIGIOUS, EST. 2005
Presenting welcoming music, arts & cultural experiences for people of all ages & incomes.
Home Venue: Fremont Abbey, 4272 Fremont Ave North, Seattle, WA 98103 / 206-414-8325 Ballard Homestead: 6541 Jones Ave NW, Seattle | + South Park Hall, Woodlawn Hall Greenlake, UHeights Auditorium (UDistrict), St Mark's Cathedral (Capitol Hill), & more
--------------------------------------------------
See Updated Public Health Safety Info at the bottom of this page under Abbey Arts Presents. All Abbey Arts venues adhere to WA State & King County health guidelines. Thanks for helping keep our community safe!
--------------------------------------------------
About the organizer
Public Health Info:
Be sure to check your events ticketing page for any special requirements per event.
That being said, we still strongly encourage people attending to follow all safety protocols shown below and per King County Public Health.
Attendees are welcome to wear masks at their discretion, all are welcome. Please don't discriminate based on mask or no mask. Some people may opt to wear a N95 for their own protection.
Please check your specific event details before purchasing a ticket.
THESE GUIDELINES MAY CHANGE AT ANY TIME DUE TO PUBLIC HEALTH GUIDELINES
-----------MORE INFO--------------
All Abbey Arts employees & volunteers are vaccinated.
We are operating at full capacity and do not have any capacity restrictions unless otherwise noted in the event description.
We have added hand sanitizing stations and air filtration systems around our venues. We encourage you to regularly sanitize and fully wash hands when you use the restroom.
****
By entering the Venue, you and the members of your group voluntarily assume the risks of contracting COVID-19 and agree to release, waive, discharge and covenant not to sue any Artist performing or Abbey employee or company (including their owners, officers, employees, volunteers, agents and the City of Seattle), and hold these entities and persons harmless from liability regarding any and all claims relating to COVID-19 and indirectly or directly arising out of or relating to the Venue or event.
****
Individual events may have additional safety measures in place, see Ticketing pages for details.
-----------------------
ABBEY ARTS, SEATTLE:
NONPROFIT 501C3, NON-RELIGIOUS, EST. 2005
Fremont Abbey | Ballard Homestead | South Park Hall | St Mark's Capitol Hill | The Auditorium @ UHeights |  & more
Independent nonprofit, non-religious, all ages/incomes. 
Low Fee Tickets! No hidden high fees like Ticktmstr. :-)
[ Click here to subscribe to our optional text messages. ]
[The views and opinions expressed at events are those of the artists and performers and do not necessarily reflect Abbey Arts. About Page | Respect Policy.]
Refunds may be available per event settings.
No refunds due to support act changes.
Tickets for rental events may be via their website. 
Note: Entry requirements are subject to change. By purchasing tickets to this event you agree to abide by entry requirements in effect at the time of the event. Check the venue website leading up to your event for the latest protocols.