Description
Summer is here and that means fresh, local fruit!
Cherries picked fresh from the tree make a delicious and healthy treat. Bring the whole family and pick a bucket or two of these sweet and juicy gems! A trip out to the orchards is a fun family activity that will create lasting memories for years to come!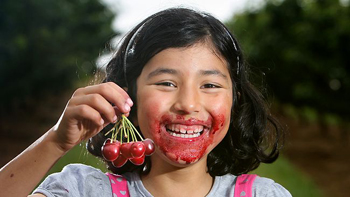 Williamson's will be opening the orchards to the public on Friday, Saturday and Sunday (June 21st – 23rd) (June 28th – June 30th) (July 5th - 6th) from 10 a.m. to 4 p.m. There will be a cover charge of $6 per car to enter the orchard. Cherries will be charged by the 5.5 lbs bucket or the 34 lbs full-box. Williamson's will provide all containers and will have staff on site for assistance and sales (cash/credit). Please remember that we are dependent on the weather, so dates and availability are subject change. We will be posting prices closer to the time of the event.

U-PICK CHERRY PRICES
$6 cover charge per car
5.5 lbs Bucket = $9.90
**Family Special** 4 x 5.5 lb Buckets = $37.40
34 lbs Box = $54.40

ALL COVER FEES, BUCKET AND BOX SALES MUST HAPPEN ON-SITE AT THE TIME OF THE EVENT.

Why is there a cover charge?

Williamson's instituted a cover charge several years ago to ensure that everyone has a safe, smooth and fun experience on the farm. The cover charge helps to pay the following costs:
Insurance, because there is always a risk of damage or injury when you allow the public onto farm property.
Mobile point of sale system, because most people want to pay with a credit card.
Porta-potties, because sometimes nature calls when you are in the orchard.
Staffing, to help make the experience fun and easy.
The cherries you are gonna eat while in the orchard, because most people don't want to weigh themselves before and after. :)
Side note: You can totally pull a clown car if you want. Pack the car full of people and it's still only $6!
For questions, or assistance with directions, please feel free to call 208-459-7333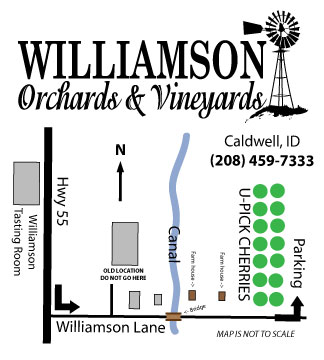 Driving Directions: Our cherry orchards are located just off of Highway 55, approximately 3 miles north of Marsing, ID. Look for directional signs starting near mile marker number 3. Turn east onto Williamson Lane and drive over the bridge and up the hill to the parking area above the orchard.
**Please do not go to the old retail location, this building is no longer owned by Williamson's and no one there will be able to help you.*
Guidelines to follow while you are in the orchards:
1. Don't park in the orchards.
2. Do NOT bring your pets. Service dogs must wear a vest.
3. No smoking in the orchards.
4. Please be responsible for your children's activities.
5. No ladders.
6. Do NOT climb the trees.
7. Do NOT break branches.
8. Please pick up your trash.
9. Please stay in designated area.