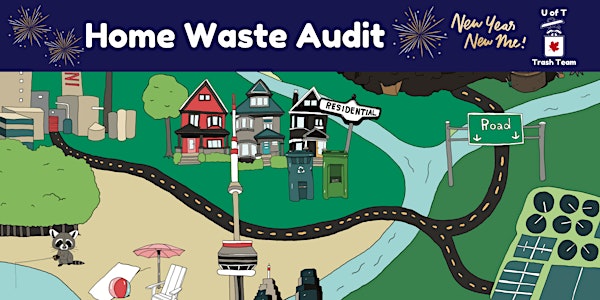 U of T Trash Team: Home Waste Audit
Start off the new year with the University of Toronto Trash Team!
About this event
It's the start of a new year, are you wondering how you can increase your waste literacy and circularity? Back by popular demand, you can join the University of Toronto Trash Team's Home Waste Audit and challenge yourself to reduce your waste as you increase your waste literacy!
The Home Waste Audit is designed to increase your waste literacy regarding local waste management systems and how local residential waste impacts the global waste footprint. You will learn about the waste stream in the municipality where you live as you decrease your own waste footprint and divert waste away from the landfill.
How it works:
Your Home Waste Audit takes place over 4 weeks during the period of Tuesday, January 24 - Monday, February 20, 2023. You will also be invited to attend two webinars, taking place before and after completing your Home Waste Audit.
Each week you will audit your waste by recording what ends up in your garbage and recycling bins.
There will be a series of short online surveys to complete (sent by email).
Webinars:
The first webinar takes place the day before your audit to provide instructions on how to audit your waste. The second webinar takes place a few weeks after completing your audit to share our final results.
Webinar 1 - Introduction to the Home Waste Audit: Monday, January 23 at 7 pm EST
Webinar 2 - Results from the Home Waste Audit: Monday, March 6 at 7 pm EST
***Registering for a ticket will automatically register you for both webinars.***
Once registered, please visit the U of T Trash Team Home Audit page for complete instructions and resources. We will also share these by email!