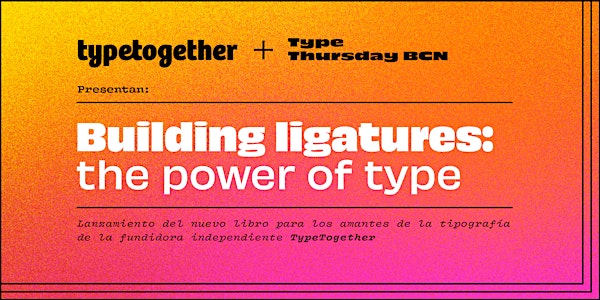 TypeTogether + TypeThursday BCN ☛ Edición Especial!
TypeTogether + Type Thursday Barcelona
When and where
Location
BAU, Centro Universitario de Diseño de Barcelona 118 Carrer de Pujades Espai Polivalent 08005 Barcelona Spain
Refund Policy
Contact the organizer to request a refund.
Eventbrite's fee is nonrefundable.
About this event
La fundidora independiente TypeTogether patrocina este encuentro tipográfico especial de Type Thursday Barcelona para comemorar el lanzamiento de su libro "Building Ligatures: the power of type". Para esta edición contaremos con una programación increíble que va a encantar a lxs amantes de las letras.
¡Serán todxs bienvenidxs a este evento especial!
Programa:
18:15 > Typecrit con Veronika Burian & José Scaglione
Los fundadores de TypeTogether ofrecerán una sesión de revisión pública de proyectos de diseño de tipografías. Esta Typecrit estará limitada a 4 proyectos y los interesados deben registrarse via correo electrónico a info@type-together.com para recibir más información sobre el material que es necesario para la sesión. Esta es una rara oportunidad para recibir comentarios y sugerencias que pueden ir desde las cuestiones de diseño hasta las de conceptualización y planificación de un programa tipográfico.
19:15 > Presentación de Elena Ramirez Sobre el uso de la tipografía en el desarrollo web
Aunque desde 2008, con el soporte de Safari a los ficheros True Type, es posible usar fuentes más allá de las de sistemas en nuestros sitios web, algunos aspectos de la tipografía web aún son desconocidos para quienes trabajan con ella. Esta charla es un repaso por el flujo de trabajo con tipografía en web, desde la selección de fuentes, pasando por las escalas tipográficas y terminando en el impacto que usar webfonts tiene a nivel de accesibilidad y performance.
19:35 > Nina Faulhaber & Emma Marichal y la beca Gerard Unger Scholarship
Las ganadoras de la beca Gerard Unger Scholarship en sus ediciones 2021 y 2022 presentarán sus proyectos tipográficos Aeroplan y Ploquine respectivamente. Compartirán sus experiencias sobre la tutoría realizada en el marco de esta beca educativa, sus inspiraciones y procesos de diseño, y la evolución de sus familias tipográficas.
19:55 > Veronika Burian y José Scaglione - Construyendo Ligaduras
Con ocasión de su 15 aniversario, la fundidora independiente TypeTogether ha publicado el libro "Building Ligatures". The power of type. Presenta una visión panorámica y de carácter educativo sobre los conocimientos, la experiencia, y las reflexiones sobre la práctica del diseño tipográfico y gráfico. También nos exhorta a discutir el rol de la fundidora moderna, los desafíos de las pequeñas fundidoras, y las posibilidades de colaboración que hoy se abren en el ámbito educativo y de los medios digitales.
20:15 > TypeQuiz
Desafiamos tus conocimientos tipográficos en este Quiz. El vencedor ganará un premio que se anunciará en el día del evento.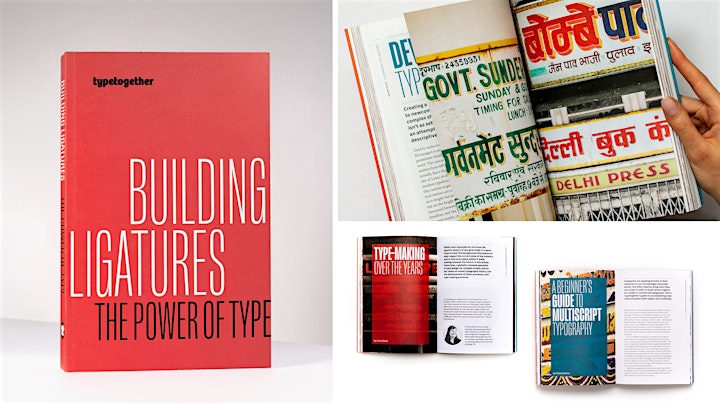 Sobre los conferencistas:

Elena Ramirez
Cofundadora del estudio Ashler Design, donde se encarga del diseño y desarrollo de interfaces digitales. Ha trabajado para grandes clientes como Google y Telefónica, y fundiciones digitales de todo el mundo, lo que le ha obligado a afilar su ojo tipográfico.

Nina Faulhaber
Estudiante de diseño de comunicación con especialización en tipografía en Ausburg, Alemania, Nina está fascinada con la interacción entre la artesanía precisa y la creatividad artística que pone en práctica en su diseño tipográfico y en su trabajo como escultora en maderas.

Emma Marichal
Diseñadora gráfica y de tipografías establecida en Lyon, Francia. Se especializó en diseño de fuentes en la escuela EsadType en Amiens y luego se especializó en ingeniería tipográfica con el entrenamiento de Rosalie Wagner.

Veronika Burian
Veronika es una diseñadora de producto y de tipografías a cargo de la fundidora independiente Typr Together junto a su socia José Scaglione. Es una de las organizadoras del programa de mentorías de Alphabettes, co-Directora del proyecto GRANSHAN, co-curadora y organizadora de los eventos TypeTech MeetUp, y profesora invitada en la Facultad de Arquitectura y Diseño NTNU en Noruega.

José Scaglione
Diseñador Argentino graduado de la Maestría en Diseño de Tipografías de la Universidad de Reading (UK), profesor universitario y autor especializado en tipografía. Es socio de la fundición independiente TypeTogether y sus tipografías han sido galardonadas con numerosos premios. Ha sido presidente de ATypI (2013–2017) y director de la competencia Letter.2.