Description
Hey Los Angeles! Let's talk type.
Welcome to our first session of TypeThursdayLA, proudly sponsored by the Hoffmitz Milken Center for Typography at ArtCenter College of Design. This month's typeface is Colette by LuxTypo. Join us to collaborate and support each other's design work and improve the integrity of typography.
TypeThursday is a monthly salon focused on discussion of work-in-progress letterform projects between a presenter and a lead. After a quick presentation, the lead opens discussion to attendees. The collection of practitioners of various disciplines of letterforms leads to a unique mix of the promotion of design excellence and democratic participation.
If you'd like feedback on type design, typography, lettering or any design having to do with type. We have four presenters, 15 minutes each. Come and present work and get some feedback from other type lovers and designers. Just submit via this form up to 24 hours prior to showtime. First come, first served.
Our first event will be held at the Hoffmitz Milken Center for Typography in the south campus of the Art Center College of Design, Pasadena.
——————————————
Your event hosts
Community Lead: Krislam Chin
Communication Co-Leads: Cecilia Franconi & Zach Hill
Photography Lead: Christopher Figueroa
Critique Co-Leads: Gloria Kondrup & Simon Johnston
——————————————
TypeThursdayLA is made possible by our generous sponsors!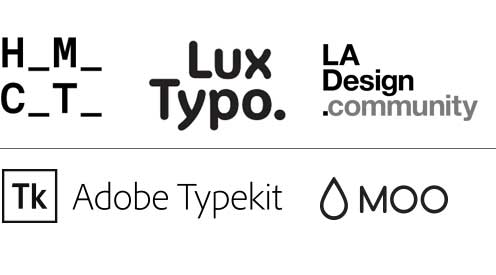 Event Partner Hoffmitz Milken Center for Typography
Foundry Sponsor LuxTypo
Promotion Sponsor ladesign.community
National Sponsor Adobe Typekit
National Printing Sponsor MOO
——————————————
The Format
6:15pm Socializing with light music, food and drinks. Volunteers welcoming attendees and making introductions as needed to break the ice for new members.
7:00pm The Salon Discussions. Each Session is 15 mins in total: 5 min discussion between the presenter and the discussion lead. 10 min open discussion with the attendees and the discussion lead.
8:15pm Socializing with light music, food and drinks.
——————————————
FAQs
Am I required to show work?
No, but you're welcome to come and learn. We do encourage participiating in the critiques and asking questions that would benefit the presenters and the community.
What can I present at the event?
Bring your work-in-progress projects that are typographic in nature or utilize type in some fashion. Anything where graphic designers can help you. Some examples:
UI/UX: An App or Site that utilizes typographic elements
Lettering: Sketches and directions for a lettering assignment
Typeface: Proofs showcasing large renders of the letters, spacing proofs, text settings of the type
Layout: Multi-page compositions that handle large areas of type
To present projects, submit your files by noon the day of TypeThursday. Your work, if accepted, will be projected onto the wall and the group will help improve your typography! Please do not show any work that is covered under contracts or NDAs, as your presentation will be photographed and shown to the group.
Where can I contact the organizer with any questions?
Email TypeThursdayLA organizer Rachel Elnar at rachel@typethursday,org.
Date and Time
Location
Hoffmitz Milken Center for Typography at ArtCenter College of Design
950 South Raymond Avenue
Pasadena, CA 91105