Description
---
Join other individuals, families, and caregivers affected by type 1 diabetes (T1D) at all life stages for a day of education and connection at the TypeOneNation Summit presented by Allegheny Health Network Center for Diabetes. Talk to experts about research advances, attend our diabetes vendor fair, meet with other attendees to exchange ideas, and participate in discussions important to you.
Let the Kids be Kids!
Available to all children between the ages of 4-12. Having Type 1 diabetes is not required to attend the Kids Zone. Feel free to come check in on your kid at anytime but the room will be staffed by diabetes trained volunteers. All children will have access to Sportszone Activities as well as a chaperoned tour of the Science Center!
Tickets
Tickets include access to the Carnegie Science Center and a complimentary lunch.
$10 Adults, $6 Kids- earlybird pricing available until 2/28, prices go to $12 adults, $8 kids on March 1, 2019
Need financial assistance? See more information in the FAQ below.
---
Celebrity Guests-
Chris Ruden(@ChrisRuden)-
Chris Ruden is an elite Powerlifter, entrepreneur, model and motivational speaker– despite his congenital birth defect leaving him with only 2 fingers on his left hand and a shorter left arm. 19 years into battling his physical situation, he was diagnosed with type 1 diabetes. He is competing on NBC's show, "The Titan Games" hosted by the Rock
Jillian Rippilone (@T1Dchick)- Jillian was diagnosed with Type 1 diabetes at 8 years old and she was one of the first Type 1 social media influencers to spread diabetes awareness.
Paloma Kemak (@Glitterglucose)-

Paloma is better known online as "Glitter Glucose!" She shares her glittery, girly, fabulous life and just happens to live with Type 1 Diabetes. She was diagnosed in 2013 and created the "Glitter Glucose" persona to make friends who also live with T1D. Through her blog and Instagram, Paloma connects with people all over the globe by sharing "me toos," food, fashion and all her favorite things!
Topics Include-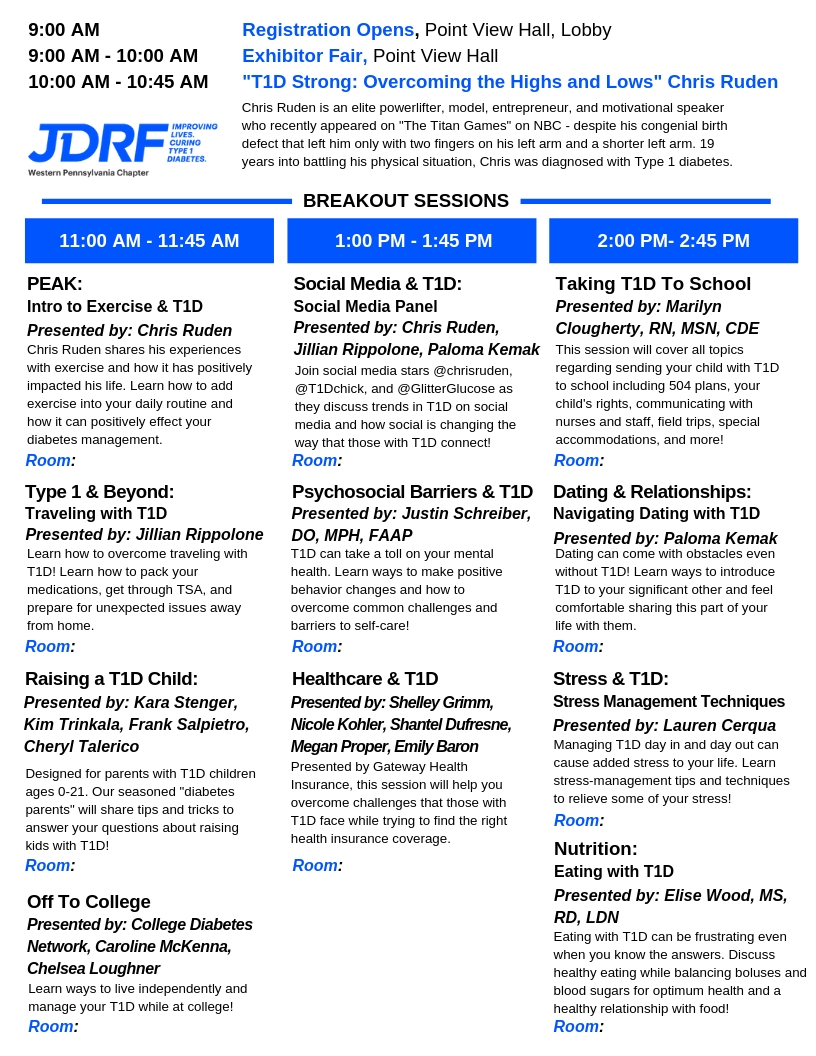 ---
Type 1 Diabetes TrialNet
TrialNet will be onsite offering risk screenings for relatives of people with type 1 diabetes. For more information, visit https://www.trialnet.org
---


Thank you to our National Premier Sponsor:

Thank you to our Local Sponsors: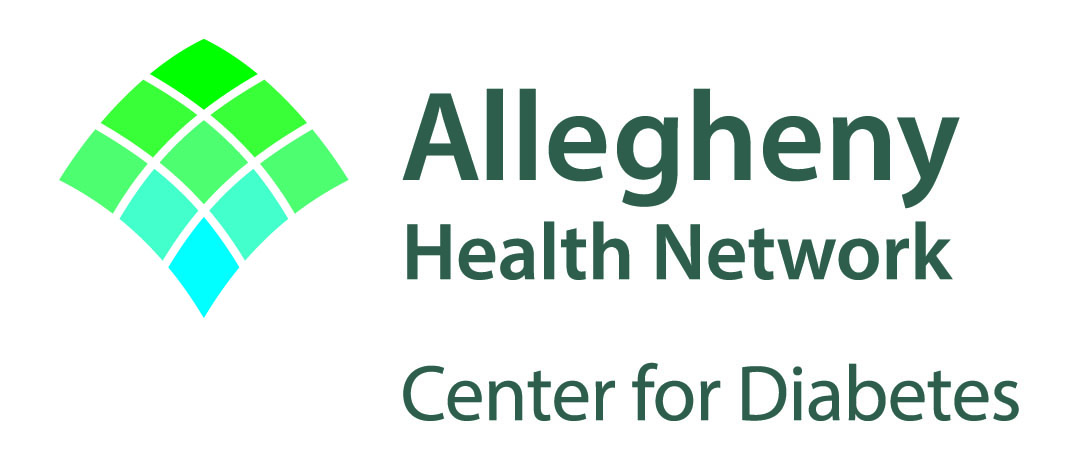 FAQs:
What are my parking options getting to the event?
Parking is available at the Carnegie Science Center lot for $5 per vehicle


Interested in being a volunteer at the event? Please click the link below:


What if my family cannot afford tickets, but would still like to attend?
JDRF is happy to provide tickets to families that need assistance, please click the link below to request:
Sorry, the tickets are sold out


Can I buy tickets at the door?
JDRF will not be selling tickets at the door, however you can buy a regular priced Carnegie Science Center ticket ($19.95) and still attend the summit. You will not be guaranteed a complimentary lunch, but you're welcome to lunch if supplies last.


Do I have to attend the entire Summit or can I come and go as I please?
Although we think all JDRF families will enjoy the entire day, please feel free to come and go as you please to best suit your needs.


Do I have to pay for Carnegie Science Center access or lunch?

Access to the Carnegie Science Center and Lunch are included in your ticket. You are welcome to enjoy the Science Center after the Summit or during breaks.






FAQs
Do I have to bring my printed ticket to the event?
No- you will only need to check in at Registration upon arrival