Description
Join other individuals, families, and caregivers affected by type 1 diabetes (T1D) at all life stages for a day of education and connection at the TypeOneNation Summit. Talk to experts about research advances, meet with other attendees to exchange ideas, and participate in discussions important to you.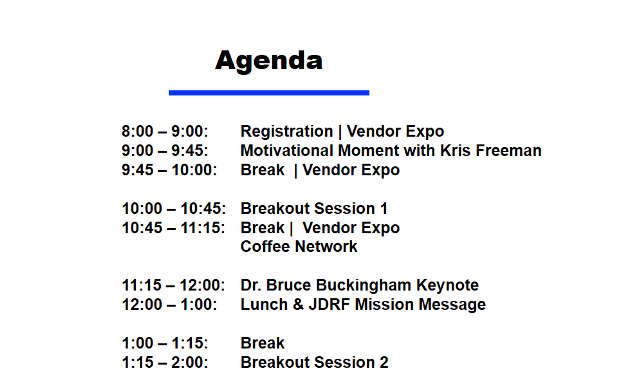 BREAKOUT SESSIONS
To help us plan accordingly, please indicate which breakout session you are most likely to attend when registering. Don't worry, you can change your mind! Your input today helps us better accommodate room size and seating needs.
Breakout Session 1
Diabetes Distress & Burnout - Allison Nimlos, MA, LAMFT, therapist and diabetic health coach, Greater Than Counseling & Coaching. Learn how to identify the signs of type 1 diabetes distress or burnout, and strategies for how to manage and cope. Allison will discuss mental health considerations at all ages and stages of T1D, from newly diagnosed to experienced.
Nutrition Trends in T1D - Lauren Plunkett, RN, CDE, LP Nutrition Consulting. This session will cover the latest and greatest in nutrition to support the best outcomes in blood sugar control. Additionally, we'll discuss how to eat strategically to sustain energy levels and develop long-term healthy habits. This presentation is gluten-free friendly and suitable for all ages and stages of diabetes.
Tools of Type 1's - Rob Howe, podcaster, Diabetics Doing Things. Confidence. Intention. Openness. Diligence. Learn what Rob learned when he interviewed more than 100 people from around the world to create this collection of inspiring T1D stories.
T1D at School: Building a 504 Plan - Jill Campbell, RN, CDE, St. Catherine University, Jennifer Crouch, LISW, 504 plan coordinator, Minneapolis Public Schools, Aimee Gravelle, JD, BSN, RN, LSN district nurse, Minneapolis Public Schools. In this interactive session, you'll learn how to partner with the school team and the various plans schools may offer families. The Individual Health Plan, Emergency Health Plan and 504 Plan will be described. Communicating with school health staff, technology use at school, field trips and extracurricular activities will be reviewed. There will be an opportunity for questions.
How to Get the Most Out of Your CGM - Caitlin Hasledalen, research coordinator, International Diabetes CenterWhether you currently use a continuous glucose monitor (CGM) or are considering this technology, learn the options available, how to best use the device, an overview of the available apps for glucose control, how to read your own data and interpret trends to make decisions or have discussions with your healthcare team.
Breakout Session 2
Ask the Endo Panel - Dr. Bruce Buckingham, pediatric endocrinologist, Stanford University School of Medicine, Dr. Anders Carlson, adult endocrinologist, International Diabetes Center, Health Partners Park Nicollet, Dr. Jennifer McVean, pediatric endocrinologist, University of Minnesota. Moderated by Dr. Laura Gandrud, pediatric endocrinologist, Children's Minnesota. Bring your questions for an interactive discussion with this powerhouse team of leading endocrinologists. Each panelist can speak on a variety of T1D topics, including pediatric and adult care, technology, prevention, research advancements and much more.
Exercise & T1D - Lauren Plunkett, RN, CDE, LP Nutrition Consulting. Learn the fundamentals of exercise and T1D, from the benefits and barriers to blood sugar control, the effect of different forms of exercise on blood sugar and tips and tricks for successful T1D management during exercise. Lauren will also share case study examples along with her own personal journey with T1D.
T1D Talk for Adults Panel - Denise Brown, APRN, CNP, endocrinology nurse practitioner, Allina Health, Rob Howe, podcaster, Diabetics Doing Things, Laddie Lindahl, blogger, Test Guess and Go, Dr. Christopher Martin, adult endocrinologist, Allina Health, Allison Nimlos, MA, LAMFT, therapist and diabetic health coach, Greater Than Counseling & Coaching. Created especially for adults with T1D, this is your chance to bring your thoughts and questions for an interactive discussion. Our panelists represent different ages and stages of life with T1D and have a wide variety of experience and perspective to share.
Health Policy Priorities - Ann Nerland & Shelley Page, JDRF Advocacy and Amelia, Anthony, Elizabeth & Skylar, JDRF 2019 Children's Congress Delegates. Gain a better understanding of JDRF's national health policy initiatives, including the role Advocacy plays in the research pipeline, our online health insurance tool and our efforts around insulin affordability. Hear from our Children's Congress delegates as they share their experience advocating for health policy change on Capitol Hill.
Eating Disorders & T1D: A Complicated Relationship - Quinn Nystrom, M.S., sponsored by Center for Change. Living with type 1 diabetes is complicated enough, but then throw in a dual diagnosis of an eating disorder, and the management of the two becomes tricky. Learn about Quinn's personal journey of seeking recovery, and how healthcare professionals can best assist their patients who are struggling.
KEYNOTE SPEAKERS
Dr. Bruce Buckingham, Stanford University School of Medicine
Dr. Buckingham's research focuses on continuous glucose monitoring in children and closed-loop (artificial pancreas) systems.
Motivational Moment with Former Professional Cross-Country Skier & Olympic Athlete Kris Freeman, sponsored by Novo Nordisk
Kris will share his story of being diagnosed with type 1 diabetes while training for the US Olympic team, and how he hopes to encourage others to overcome obstacles to achieve their dreams.
Jumping Into Greater Things with Professional Track and Field Athlete Kate Hall
Diagnosed with type 1 diabetes and celiac disease at age 10, Kate learned how to manage both diseases full time and tackled them head on at a young age. Since then, Kate has beaten the odds to become a national high school record holder in 2015, two-time NCAA champion, Olympic Trial finalist and USA long jump champion. Kate is currently training for the World Championships and 2020 Tokyo Olympics.
CAMP PROGRAMS
While parents attend the speaking sessions, children and teens are invited to join their peers at one of the below camp programs.
Kids Camp
Kids Camp provides supervised programming, arts and crafts, games and activities for elementary school aged children (ages 5 to 10). Kids Camp will open at 8:30 am.
Tween Zone – NEW this year!
Created for middle school students, Tween Zone offers interactive sessions, games and activities for students ages 11 to 13. Tween Zone will open at 9:45 am so tweens can attend the Kris Freeman motivational moment with their parents.
Teen Central
Teen Central provides programming and interaction for high school students (ages 14 to 17), including small group discussion, creative brainstorming and special speakers. Teen Central will open at 9:45 am so teens can attend the Kris Freeman motivational moment with their parents.
LUNCH
Lunch will be provided. If you require a gluten-free or vegetarian lunch option, please request when you reserve your tickets.
COFFEE & CONVERSATION
NEW this year!! Coffee & Conversation – enjoy time to network with other peers during the 10:45 to 11:15 am break. Special space will be designated for Newly Diagnosed Families, Adults with T1D and Parents & Grandparents. Connect with others, share your experience and find support.
---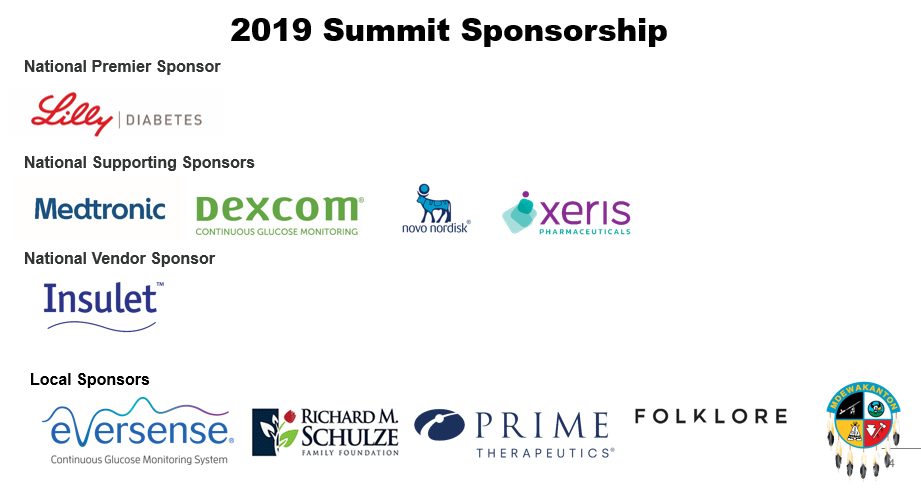 FAQs:
What are my parking/transportation options getting to the event?
There are a number of paid parking options near the venue including the Saint Paul RiverCentre ramp attached via skyway. Saint Paul RiverCentre is easy to access from several Metro Transit bus lines servicing the downtown Saint Paul area and is located six blocks from the Metro Transit light rail stop servicing the downtown Saint Paul area. For detailed information please visit: http://www.rivercentre.org/exhibit/parking-transportation.