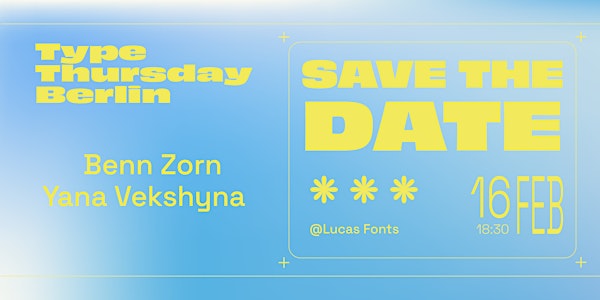 Type Thursday Berlin – February 16, 2023
Join our next event in Berlin on February 16!
Date and time
Thursday, February 16 · 6:30 - 9:30pm CET
Location
LucasFonts Eisenacher Str. 56 10823 Berlin Germany
Refund Policy
Contact the organizer to request a refund.
About this event
Type Thursday Berlin is here! ✨
Type Thursday is a monthly gathering for type and letterform lovers hailing from all disciplines and levels of expertise. No matter your background, if you like type, you'll be right at home.
The event features various presentations by type both makers and users, and they range from experienced designers at the tops of their games to others just starting out. Everyone has a unique perspective and ideas which helps to spark thoughtful conversations.
The floor is also always open to TypeCrits. This is a moderated group critique of an 'in-progress' project involving letterform design or usage. The discussion is led by our Dialogue Lead, which helps turn attendees' feedback for presenters into a conversation. No snobbery. No design police. Just a room full of knowledgeable letterform lvers helping one another do the best work we can. You can either give, have or just listen to feedback while drinking a beer. It is up to you!
Do you want to present your own project? Submit your work here: https://form.jotform.com/200566963867166
_
Event Program:
· 18.30 h - Social Hour. Have a drink, make a new friend.
· 19.00 h - Opening Statements. Introduction
· 19.10 h - Our speakers: Yana Vekshyna and Benn Zorn ✨
· 20.30 h - More mixing 'n' mingling. During the event, you'll realize there are tons of smart people in the room you still need to meet!
· 21.30 h - End of the event. See you next month!
_
Still curious?
Check out our website or social media accounts of the other TypeThursday chapters.
_
FAQs
Who should attend?
Anyone who loves letterforms. We always welcome a new (type)face.
Do I have to present?
Not at all! Some people come to network, some to learn and observe, and some to help give feedback. Your level of participation is up to you.
Why should I consider presenting at Type Crit?
You'll get free, friendly, fast feedback from fellow font fanatics. Type Crit presenters get free admission to the event. We shower presenters with love on our social media.
What kinds of work can I show at Type Crit?
We accept any work involving the use or design of letterforms. Examples: logotype designs, hand lettering, calligraphy, typeface design, print layouts that involve typesetting, UI designs that need hierarchical sharpening… or make up a new genre of type-related work and blow our minds!
How do I submit work to Type Crit?
Upload files using TypeThursdayBER's handy online form. We'll display your work using a projector hooked up to a laptop.
Here's the link: https://form.jotform.com/200566963867166
_
I have more questions!
→ Email us at berlin@typethursday.org
_
Partners & Sponsors
TypeThursdayBER is made possible by our generous sponsors and partners.
Main Partner: LucasFonts
If you want to become a partner, don't hesitate to email us at berlin@typethursday.org
_
TypeThursdayBER team:
Chapter Lead: Irina Madan
Team: Kimya Gandhi, Rob Keller, Anna Wassmer, Nil Carbó, Paula Ahn, Martha Gomez
Would you like to join the team? 🚀 Approach any of the team members or shoot us an email at berlin@typethursday.org
Follow us on Social Media!
→ Twitter
_
* By buying a ticket you will be subscribed to Type Thursday Berlin newsletter. Your info will not be used in any other way than the newsletter and it won't be shared with any third parties. You can cancel your subscription any time.
** Please note that filming/photography is taking place at this event for promotional and