If you are overweight or have prediabetes, participate in our CDC-recognized National Diabetes Prevention Program lifestyle change program.
About this event
****Time Frame****
The program runs for 1 year.
During the first 6 months of the program, you will meet about once a week.
During the second 6 months, you'll meet once or twice a month.
​Making lifestyle changes is an ongoing process. Staying in the program for the full year is essential to help you stick to new habits and avoid slipping back into old habits.
****Cost****
The First 2 weeks are FREE(w/meal plan)​
$5 signup fee includes registration, book, handouts, and CDC report logs.
​****FEEs waived to recipients of WIC, SNAP & Medicaid****​
Basic plan ----->$5/month(Limited Time)
Intermediate plan----->$10/month w/Meal Plan
(​****Basic & Intermediate plan FREE to recipients of WIC, SNAP & Medicaid**** )
Advanced Plan----->$15/month w/Nutrition Consult & Meal Plan
******NO Credit/Debit Card required for the trial. Risk free cancellation!******
If you decide after the trial you wish to continue services we will invoice you to process your payment. We will not ask for a payment unless you wish to continue services.
****Cirriculum****
How to eat healthy without giving up all the foods you love
How to add physical activity to your life, even if you don't think you have time
How to deal with stress
How to cope with challenges that can derail your hard work—like how to choose healthy food when eating out
How to get back on track if you stray from your plan—because everyone slips now and then
​In the second half of the program, you will enhance the skills you've learned so you can maintain the changes you've made.
****Coach****
This program is a yearlong lifestyle change program delivered 100% by Trained and Certified Lifestyle Coach via remote classroom or telehealth (i.e., conference call or Skype) where the Lifestyle Coach is present in one location and participants are calling or video-conferencing in from another location
Eligibility Requirements
To be eligible for this CDC-recognized lifestyle change program, you must meet ALL of the following criteria:
Be 18 years or older
Be overweight (body mass index above 24, or 22 if you are Asian)
Have NOT been diagnosed with type 1 or type 2 diabetes
NOT be pregnant
In addition, you must meet ONE of the following criteria:
Have had a recent blood test in the prediabetes range, which includes one of the following tests and results:
Hemoglobin A1C: 5.7–6.4% or
Fasting plasma glucose: 110–125 mg/dL or
Two-hour plasma glucose (after a 75 gm glucose load): 140–199 mg/dL
Have received a result of high risk for type 2 diabetes on the Prediabetes Risk Test.
A doctor previously diagnosed you with gestational diabetes.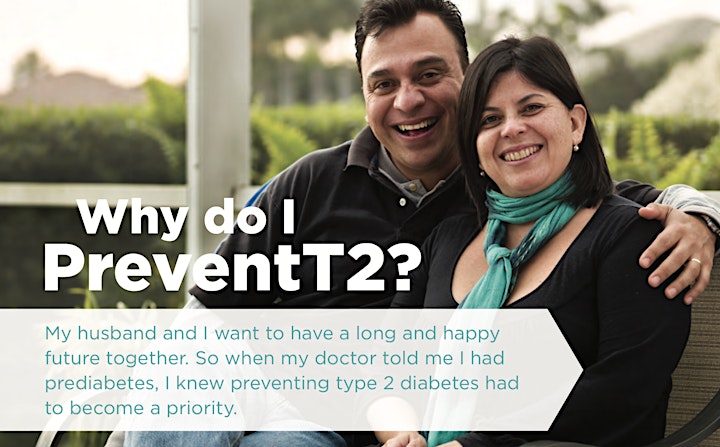 Organizer of Type 2 Diabetes Prevention Program