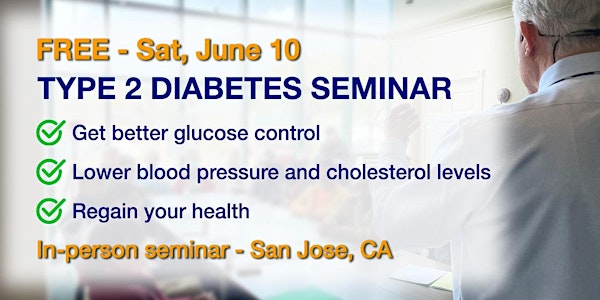 Type 2 Diabetes - FREE Seminar (In-Person)
Type 2 diabetics learn to reduce glucose levels with the goal of improving health and eliminating the need for medications.
By The Human Engine Clinic
Date and time
Saturday, June 10 · 10am - 12pm PDT
Location
Silicon Valley Business Center 1900 Camden Avenue San Jose, CA 95124
About this event
About this event
Most people who have had Type 2 diabetes for any length of time know that even when following doctor's orders to a tee the medication levels need to consistently increase to keep glucose numbers under control. Medical doctors use medication(s) as their main focus for managing Type 2 diabetes. Our focus is to help decrease glucose numbers with simple, natural, proven methods. Health will improve in the process. Your medical doctor will still manage your care, and as glucose numbers get better he/she will likely be able to reduce and eventually eliminate medications.
Let's have 2023 be the year to take total control of Type 2 diabetes...and improve health!
Dr. Richard Gringeri, D.C. is an accomplished speaker and author of the recently published book, THE ULTIMATE TYPE 2 DIABETES SOLUTION. Dr. Gringeri has been successfully working with Type 2 diabetes patients to accomplish their improved health goals for more than 20 years. No harsh diets or exercise. Any changes in diet or exercise are done with the idea of being able to continue them easily. At this seminar you will learn:
• The true cause of Type 2 diabetes
• A natural approach to getting glucose numbers under control
• How to lower blood pressure and cholesterol levels at the same time
Diabetes-friendly lunch included
A new diabetes treatment is available, register for this free seminar!
------------
HUNDREDS of patients helped!
Better than 90% SUCCESS RATE* for patients who completed their program.
VAST MAJORITY of those who did a program, SAID IT WAS EASY to do the program that Dr. Gringeri recommended.
*Success Rate - Defined as someone who was able to lower one or all of the following: Glucose numbers, blood pressure, cholesterol. And, significantly reduced or eliminated their need for diabetes medication(s).