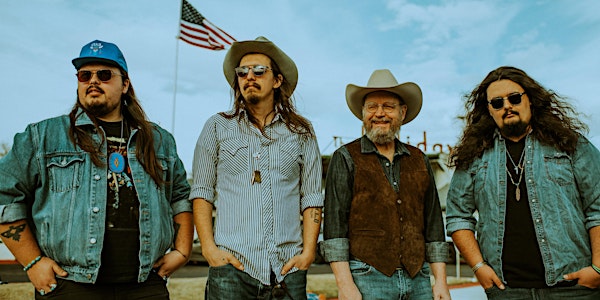 Tylor & The Train Robbers
ALL AGES
with Casey Shelden & The Homewreckers
"Tylor & the Train Robbers are bringing some bull-eye roots rock Americana songwriting to the table." -Americana Highways
When and where
Location
The Sapphire Room at The Riverside Hotel 2900 Chinden Blvd Boise, ID
Refund Policy
Refunds up to 1 day before event
About this event
7PM-7:45PM- Casey Shelden & the Homewreckers
8PM - Tylor & The Train Robbers When asked why they keep going, especially after a year like 2020, Tylor Ketchum frontman and songwriter for the band Tylor and the Train Robbers replies, "Making music is just what we do. It's what we love and we've committed our lives to it and we'll keep making records, writing songs and touring for as long as we can."
That's exactly what Tylor & the Train Robbers are known for. Since their official formation in 2014 the Train Robbers lyric-driven blend of roots country and modern Americana has landed them as a favorite among audiences across the country. They've remained an independent band and have made a habit of spending more time on the road than off, playing 200+ shows per year and venturing further and further from their home base in Boise, Idaho.
Their unrelenting dedication to their craft has earned them the reputation of hardworking professionals whose live shows highlight the connectedness that they've acquired not only from years of playing together, but also from the family bond that they all share. That's right, this band is made up of Tylor Ketchum, his younger brothers Jason and Tommy Bushman and his father-in-law Johnny "Shoes" Pisano.
"We are all family, we're connected and I think it shows in all aspects of our music. We know each other well and we bring that knowing into our songs and our live shows. We work hard for each other because we are all equally invested in this music, the band and the life that we are building around it." Ketchum says. This past year, hard work took on a whole new meaning as they navigated a global pandemic and being forced off the road for the first time in six years, but their determination didn't waver. In 2021 they will emerge from quarantine ready to release a brand new album titled Non-Typical Find. This is the band's third studio album and marks their first project with producer Cody Braun of Reckless Kelly.
"This album feels like the next step forward from our previous projects." Ketchum says "Cody is someone we've looked up to for a long time not just as a producer, but also as a musician. Having the opportunity to work with him and have him bring his vision to the record was really incredible. He has a unique understanding of our band because he has also played music with his family for most of his life."
One of the greatest additions to the new record is youngest brother Tommy Bushman, who joined the band as the drummer back in 2019. This is the the first studio recording featuring not only Tommy's own fresh approach to the drums, but also adds his perfectly blended 3rd part to their already well-oiled sibling harmonies.
The eleven song compilation, Non-Typical Find, showcases Ketchum's songwriting genius with subject material ranging from current events to harrowing tales of dead bodies discovered. The band delivers with the tight, dynamic sound they are known for and, on this album, raises the bar by including a few talented friends whose musical contributions add nuance and texture to the band's already solid sound. The outcome is an album that is an honest and intriguing blend of Ketchum's lyrical talent and the musical chemistry of the band.
The Sapphire Room is all-ages and family friendly. Every person that enters must have a ticket. No babes in arms.
With the purchase of a ticket, Sapphire guests are eligible for The Riverside Hotel's "Sapphire Getaway" for $169 + tax. Includes a standard hotel room (double occupancy) and breakfast for two the following morning. To reserve, please call 208-331-4931. Sapphire Getaway rate subject to availability.
FREE and convenient parking.
Please note that general seats may have a partially obstructed view.
Many tables are at bar height. Guests requiring lower seating will be most comfortable at tables 11 - 49. Guests requiring ADA accessible seating will be most comfortable at the following tables: 35, 36, 37, 38, 45, 46, 47, 48 and 49. For questions about accessible seating, please call 208-343-1871 or email music@riversideboise.com.
100% refunds are available until 24 hours before the event. Refunds cannot be processed after the event occurs for any reason.