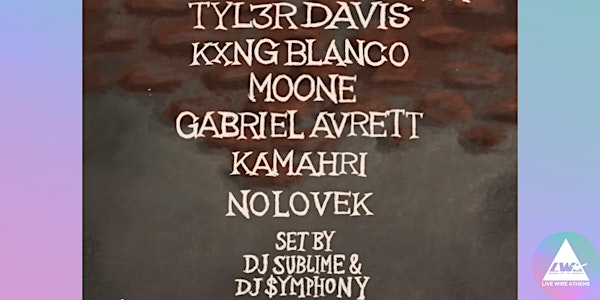 TYL3R DAVIS And Special Guests | 8:30PM Doors
UNDER 18 WITH PARENT OR LEGAL GUARDIAN
TYL3R DAVIS is back with another one with a stacked lineup and support from the best DJs in Athens- DJ SUBLIME & DJ $YMPHONY!
When and where
Location
Live Wire Athens 227 West Dougherty st. Athens, GA 30601
Performers
Headliners
More Performers
Kxng Blanco
MOONE
Gabriel Avrett
Kamahri
Nolovek
About this event
Whether you like hearing the soulful strings of the acoustic guitar, letting your soul dance to euphoric melodies, or the head rush from hard-hitting drum patterns, recording artist and vocalist TYL3R DAVIS delivers with embracive flows, heart felt melodies, and a confidence strong enough for you to feel it. TYL3R found his spot in the music world while growing up near Athens, GA. Though he is a man of various skills, he also taught himself how to write all of his own lyrics to his projects and also how to record, produce, mix, and master the content in the comfort of his own recording studio. Every project TYL3R has released come with a diverse message and assorted production that flow cohesively and are sonically in tune with one another despite the different sounds. If you're just now tuning in, welcome for you are at the front door for more great things to come.
SPECIAL GUESTS
KXNG BLANCO
MOONE
GABRIEL AVRETT
KAMAHRI
NOLOVEK
VENDORS
BELLAS BAKERY
DON CARNE
SPONSORED BY 333 THE STUDIO