TYBEE THEATER CASTING FOR STARS FUND RAISING CAMPAIGN: the team raising the most money wins a permanent Star in the Theater Wall of Fame. PLEASE help the Crab Shack Crew put our star on that wall! donate below or by phone 912-786-9857

Wednesday, November 17, 2010 at 1:15 PM

-

Friday, January 14, 2011 at 10:00 PM (EST)
Event Details

The High Styles, Top Hats and Belinda Flanigan are working to restore the Tybee Theater, but we need YOUR help!  Check out our line up of events to see how, what, where and when you can help!  Visit our website restoretybeetheater.com for more information on our campaign!
All contributions are tax deductible under IRS code 501(c)3.
"I'll Be Home For Christmas": An Evening With Haviland Stillwell:  December 23

Haviland will entertain with live performances from her hit CD "How I Role" and other show-tunes at 7:45 and again at 9pm.  This December 23rd event  is being hosted by Attorney  and Mrs. Howard Spiva, at their Paradise Island home on Savannah's Forest River.   This luxurious home will provide a perfect backdrop for meeting our guest star and mingling with fellow theater supporters, while enjoying cocktails and hors d'oeuvres.  The home's twelve-seat theater will feature a continuously running montage showcasing Haviland's life and career, beginning with the early years as a barefoot toddler on Tybee's Beaches and  Savannah  locales through her many musical, theatrical, and stage accomplishments. This home-town girl, now working in LA and New York, has appeared on Broadway, in films and is currently shooting a guest starring role on CSI: NY. She's the voice of the BRATZ doll, Yasmine, in the sydicated television show, and will bring her personality and musical stylings home to help raise money for the Tybee Theater. Between song sets, attendees can meet, greet and take advantage of photo opportunities with this "Star" on the rise!  Our photographer will be present to capture photos of you and Haviland as a complimentary memento of this event. Tickets for this event are $75 per person and available at restoretybeetheater.com and by phone at (912) 786-7009 or in person at The Crab Shack's Gift Shack.  Business attire is suggested.  Ticket availability is limited and the event is sure to sell out quickly.  Visit www.havilandstillwell.com to learn more about the vocal, film and stage accomplishments of this home town girl!

Team T-Shirt Sale:     November 1 - January 7

Our commemorative team t-shirts are available for sale NOW! Get yours for a $20 donation! All proceeds go to the Casting for the Stars campaign. Donate on Eventbrite or stop by the Gift Shack to purchase one today or mail a check or money order made payable to "Friends of the Tybee Theater" to The Crab Shack, c/o Belinda Flanigan's Team, P.O. Box 1600  Tybee Island, Georgia 31328. Be sure to include the address you want your shirt mailed to. Makes a great gift for the theater lover on your list!

Bricks and Stars Sale:     November 1 - January 7

Get your brick or star today! They will be permanently installed as a part of the front landscape of the theater with your wording!  Order forms can be picked up at the Gift Shack at The Crab Shack, or call (912) 786-7009 and we will mail one to you, or we would be happy to email an order form to you! Bricks are a donation of $75 each and Stars are $250 each.

SavannahMenu.com VIP Dining Cards Sale:     November 1 - January 7

Save a ton when dining around Savannah! You can purchase a VIP Dining Club card valid for 30 days  for $10 or a card valid for one year for $30 on Eventbrite or  at the Gift Shack at The Crab Shack! Visit SavannahMenu.com to see participating restaurants and specials!  All proceeds from cards sold go to the Tybee Theater campaign.

Donations of any denomination will be accepted on Eventbrite or you can mail your fully tax deductible donation to The Crab Shack,  c/o Belinda Flanigan's Team, P.O. Box 1600,  Tybee Island, Georgia 31328. Please make checks or money orders payable to Friends of the Tybee Theater.
Together we will raise the curtain at The Tybee Historic Post Theater! For more information and history about the theater, visit tybeeposttheater.org. More information on the Casting for the Stars campaign is available at tybeestars.com.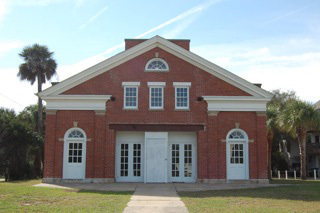 Have questions about TYBEE THEATER CASTING FOR STARS FUND RAISING CAMPAIGN: the team raising the most money wins a permanent Star in the Theater Wall of Fame. PLEASE help the Crab Shack Crew put our star on that wall! donate below or by phone 912-786-9857?
Contact The Original Crab Shack
When & Where

Tybee Island, GA 31328


Wednesday, November 17, 2010 at 1:15 PM

-

Friday, January 14, 2011 at 10:00 PM (EST)
Add to my calendar
Organizer
The Original Crab Shack
"Where The Elite Eat In Their Bare Feet"
The Crab Shack is the place to be for FUN dining! With seating for over 700, we are your group reservation destination! We do more than just the best seafood in the area, our BBQ is the best in Savannah or anywhere else! Come dine with us on the banks of Chimney creek and visit our gator lagoon, home to live baby alligators. Voted "Best Seafood" and "Best Outdoor Dining" by the readers of Connect Savannah!
NOW SHIPPING!  The Original Crab Shack is proud to annouce the launch of its shipping division LoCo To Go from The Original Crab Shack.  LoCo To Go ships all your favorite Crab Shack seafood and BBQ in ready-to-cook kits anywhere in the continental US!  Learn more at www.locotogo.net. 
TYBEE THEATER CASTING FOR STARS FUND RAISING CAMPAIGN: the team raising the most money wins a permanent Star in the Theater Wall of Fame. PLEASE help the Crab Shack Crew put our star on that wall! donate below or by phone 912-786-9857