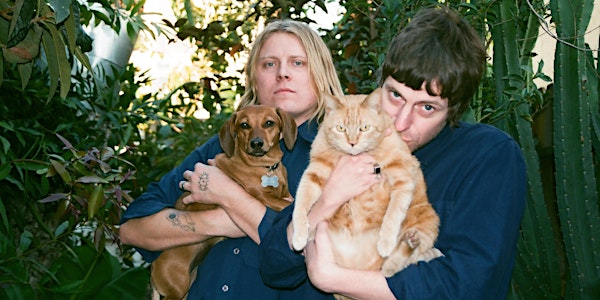 Ty Segall and White Fence, The Peacers, Kamikaze Palm Tree
Doors 8:30 // Show 9 // ALL SALES ARE FINAL // Under 21 must buy $5 drink ticket at the door
When and where
Location
The New Parish 1743 San Pablo Ave Oakland, CA 94612 United States
About this event
Doors 8 / Show 9 // ALL SALES ARE FINAL // Under 21 must buy $5 drink ticket at the door
All doors & show times subject to change.
Blonde and brunette. Dog and cat. Lemon and onion. Friend and foam. The change has been made! You can scratch your seven-year itch freely now: Ty Segall and White Fence are become one again, regrooving what we once called Hair into what is now Joy.
Hair grew out of a simpler time, man! If, as the dyphrenic duo indeed affirm on Joy, rock in 2018 is dead, don't come around here looking for no burial. Instead, find Joy caught up in the commencement of on-beyond rock; music made with the old tools, but emitted from a fresh new, single-celled organism. This time, the old "one and one make one" line does not apply. Hair had the quality of emulsion — drops of Segall suspended in Fence; a compound of White dispersed over sheets of Ty. With Joy, Tim and Ty arrive without travelling from the same place, occupy one single headspace, finishing the other's phrases, pulling licks from each other's places. Singing and thinking and laughing as one. Calling themselves from inside the house. C-c-c-creepy!
Both these fellows have been known to trifle with tropic pasts and reactivate vintage visions within their new music. Not now. Now is the only time this time — Joy is their own sound of today, a shared individuality, prisming all possible stances into an unseamly metastasis that FLOWS for 15 ebbcentric tracks. Plus, since it ends at the beginning, it never has to stop. LOOP that shit!